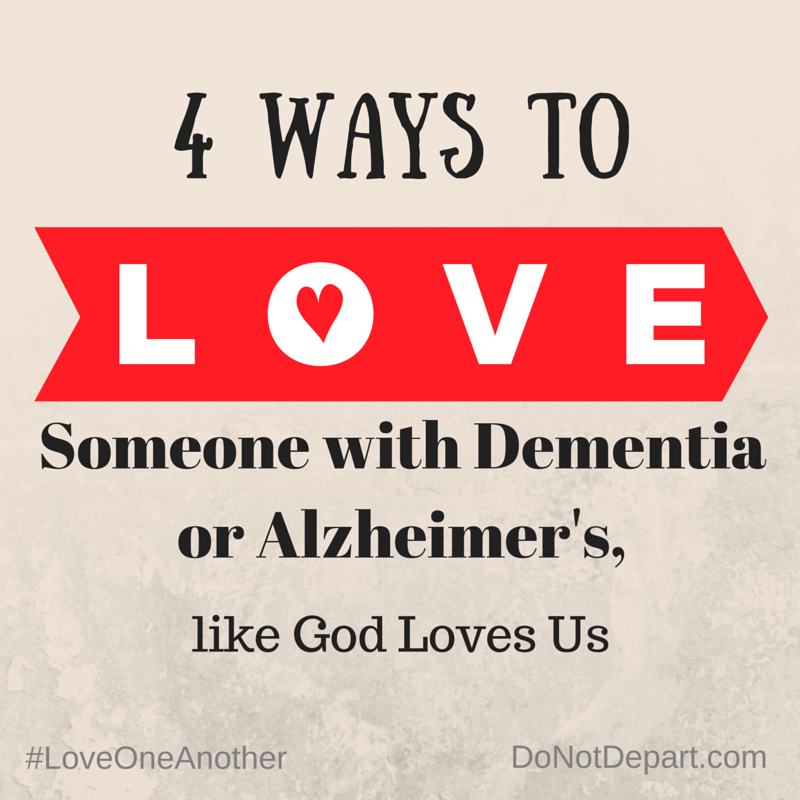 When my mom was in her 50s, she would have sleepovers for the grandkids. She would host huge family meals. She would go to lunch with friends.
But in her 60s, she began wondering how to use the remote control, forget who a cousin was, and make list after list to remember what to do tomorrow.
By her 70s, she was in full-blown Alzheimer's.
As the disease progressed and her dependence increased, Mama refused to acknowledge she needed help. For the first time ever, I saw her being rude to the girl we brought in to cut her hair, fire a caregiver we had hired to help around the house, and urge us to go back to our own homes because she didn't need a "babysitter."
The ways we were trying to love her were only making her more anxious.
How do we love someone who is no longer the same? We have to change, too.
Here are 4 ways we can adapt to a loved one with dementia in ways that benefit them, from examples of how God loves us. [Please add more ways in the comments!]
1. Stay in the moment
I tend to quickly jump from now to future plans, or from now to what I did yesterday. But people with Alzheimer's are slower to transition between time zones, and may eventually lose that capacity altogether. They live most comfortably in this moment.
So when with them, stay in this moment with them. Be present to what's happening now. Look at the flowers, talk about the color of their clothes, taste the food at their table. Jesus said that each day is sufficient in itself (Matthew 6:34). "No procrastination. No backward looks. You can't put God's kingdom off till tomorrow. Seize the day" (Luke 9:62, The Message).
2. Do things with, not just for
We all want to feel useful, regardless of our capacities. Jesus allowed and encouraged participation in His own ministry, such as letting Peter throw in the nets to catch the fish (Luke 5:4). So when possible, make things easier for your loved one to feel they're still lending a hand as well, not just watching from the sidelines as you make all their decisions.
Guide them toward their toothbrush and toothpaste, but let them handle the rest on their own. Pare down their wardrobe so they can manage their choices about what to wear. Let them help you fold the towels, even if you have to redo the job later.
3. Listen deeply
When has God ever interrupted your prayers? He listens attentively (Psalm 34:15), even when we babble on and on. We can give that same gift of deep listening to our loved one, even when they aren't making sense either.
One of the women in assisted living with my mom would speak in long paragraphs, using big words that were jumbled together. Once we realized she only wanted to be heard, instead of us anxiously trying to decipher her meaning, we listened differently and all enjoyed our "conversations" much more.
4. Let them know they bring you joy
If there's an overarching feeling God wants us to get from His love, it's that He takes pleasure in us, just as we are, because we are His children (Zephaniah 3:17). We're not His pet projects; we're His prize family. If we can convey that same sense of joy to our loved one with dementia—in whatever way they can best receive it—we're giving them a priceless gift.
Who doesn't want to feel valued? Letting someone know that they make us happy, regardless of their illness, is a beneficial contribution to their own happiness as well.
On one of the last days of my mother's life, I watched my brother brush Mama's hair, wash her face, place her in a more comfortable position. They were minor details that she may not have been aware of, but I'm certain she was aware of what they meant: she was being loved.
That's the only thing that mattered.
My dear, dear friends, if God loved us like this, we certainly ought to love each other.
1 John 4:11 (The Message)
What would you add to the list? How do you show love to someone with dementia? Please share in the comments.
Related: