The apostle Peter boldly tells us the power and importance of fellowship among believers and then extending love into the community beyond.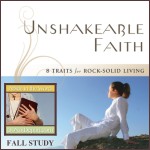 Unshakeable Faith trait eight: Connected to a local church body with love and service
How can we serve our communities?
What do we do if we don't know what needs exist?
Meeting Needs – Unshakeable Faith Week 8 at Do Not Depart

(If you are unable to see this video, click here.)
Especially considering the last quote read in the video, how can you look to Christ today and, in doing so, deepen unity in fellowship? Let us know in the comments!