Hear my cry, O God, listen to my prayer.
Psalm 61:1
I failed this week. My husband Jeff needed to talk about his frustrations at work. And he needed me to listen. But instead I twisted something he said about himself into something about me. I grew insecure, the conversation got derailed, and he felt unheard.
Who listens to you?
When you have something you need to pour out, who do you talk to? We all have go-to friends or family we know will hear us out.
But what about God? Do you go to Him?
Because you can't watch His eyes to see if He's paying attention, do you wonder if you have coverage? Do you think He'll tune you out if you don't pray with the right words? Do you think you have to be perfect to deserve an audience?
If so, it's time to believe differently. God does listen. Here's how you can know.
God hears because:
1. God is alive
When Elijah, God's prophet, contested with Baal's prophets, it was only the real God who heard and acted (1 Kings 18:36-38). Idols of wood and stone can't hear (Deuteronomy 4:28). You have a Savior who is very much alive, inviting you near to His throne of grace to talk with Him (Hebrews 4:14-16).
2. God is with you
As a believer, wherever you go, there goes God. You are the temple for His Spirit (1 Corinthians 3:16). He's always close and is never out of range.
3. God delights in delivering
When Hagar and Ishmael cried out, God heard and delivered (Genesis 21:16-17). When the Hebrews groaned in slavery in Egypt, God heard and delivered (Exodus 2:24). When you cry for help, He hears and will deliver you, too (Psalm 34:17).
4. God is your Father
Would you turn a deaf ear if your child said, "Mom, I have something I need to talk about"? If you in your imperfect parenting can listen, how much more will God, the perfect Parent, listen when you have something to say to Him (Matthew 7:11)?
5. God loves you
God listens because He cares (Psalm 145:17-18). When Nehemiah cried for God's ears to be attentive, God gave him favor with King Artaxerxes (Nehemiah 1:5-6). He longs to give you what you need, too, if you will ask Him for it (Matthew 7:7).
God hears you because of who He is (Psalm 143:1). And whose you are. Not because you've mastered a prayer formula. Not because you've been good enough to earn His attention. But because you are His.
He will never fail to listen to His own.
Jesus thanked God that He heard Him (John 11:41).
Will you thank Him for that, too?
He'd love to hear you right now.
But truly God has listened; he has attended to the voice of my prayer.
Psalm 66:19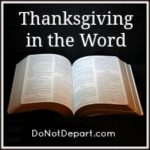 Let's start a thank-you list to God. Can you add a thankful comment about a blessing you've received this week, large or small? He's listening!