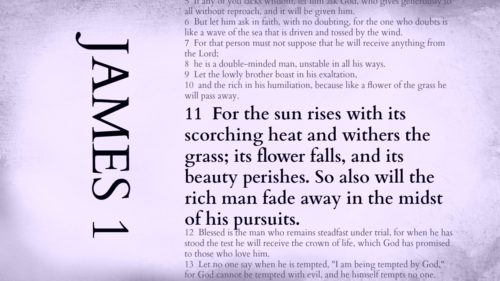 [click on picture above then download for full-size wallpaper]
MEMORIZE
Plan A:
For the sun rises with its scorching heat and withers the grass; its flower falls, and its beauty perishes. So also will the rich man fade away in the midst of his pursuits.
James 1:11
Plan B:
Blessed is the man who remains steadfast under trial, for when he has stood the test he will receive the crown of life, which God has promised to those who love him.
James 1:12
MEDITATE
You've probably already enjoyed the beauty of spring flowers this season. But you know that it's a temporary showing. The blooms don't last long, nor are they intended to. It's God's natural design.
Equally so with cycles and seasons in our own lives. Blessed is the man who doesn't depend on short-term successes, but rather keeps his trust in God for the long haul.
PRAY
Lord,
Let me not long after fleeting riches or beauty. Let my hope remain steadfast in your eternal wisdom and perfection.