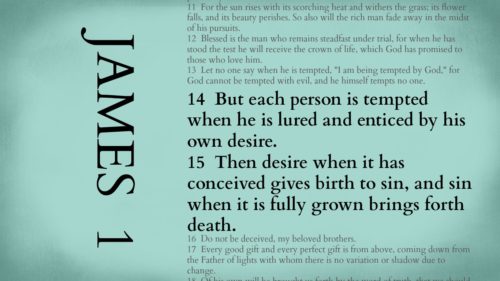 [click on picture above then download for full-size wallpaper]
MEMORIZE
Plan A:
But each person is tempted when he is lured and enticed by his own desire.
Then desire when it has conceived gives birth to sin, and sin when it is fully grown brings forth death.
James 1:14-15 (ESV)
Plan B:
Every good gift and every perfect gift is from above, coming down from the Father of lights with whom there is no variation or shadow due to change.
James 1:17 (ESV)
MEDITATE
We each have our own specific set of temptations. When something dangerous dangles in front of us, we have a choice: take the bait or keep swimming.
James lays out the process clearly in this week's memory verses: desire–>sin–>death. Let's pray for help to refuse the lure and stop sin before it begins.
PRAY
Lord,
I want to birth things of life into this world, not things of death. You don't tempt me to sin; You promise me blessings. I trust You this week to help me stay true to You.