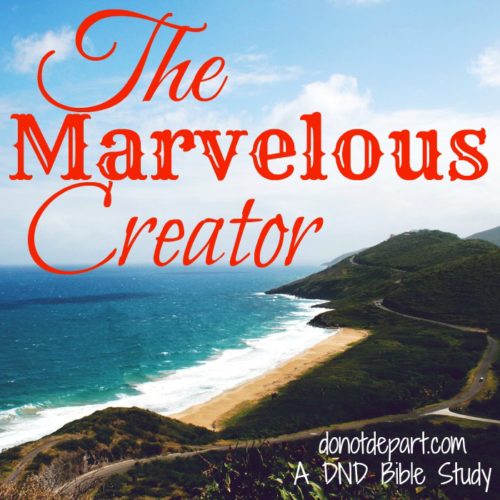 Summer is coming soon! Are you looking forward to it? For those of us here in the US, the official start of summer is June 21. And for most of us, that means more time outdoors in God's gorgeous creation. This is one of my favorite parts of the summer season. And what a wonderful opportunity to better appreciate our Marvelous Creator!
So, this month at Do Not Depart, that's just what we'll be focusing on. God, the Marvelous Creator. And we're setting this month up as a Bible study– each post will have a few reflection or homework questions for you to work on. Our hope is that as you spend time traveling to your destination, vacationing at your get-away, or just playing outside with your kids or grandbabies, you'll be able to look with fresh eyes at God's handiwork.
We hope our words and stories will help you remember certain truths about God that He's reminded us of through His creation. Sandy beaches, splashing waves, forests awash with green, painted deserts, shooting stars, lightning bugs, singing birds, croaking frogs, and your cozy backyard—it's all His the work of His majestic hands, and it's all designed to point our hearts to Him.
We serve a powerful, loving, and amazingly creative Master Artist!
I love these verses from Psalms that remind us that He not only carefully wrought the heavens, moon, and stars, but He also created us, and loves and blesses us immensely! He is mindful of our every need, and cares for us attentively.
3 When I look at your heavens, the work of your fingers,
the moon and the stars, which you have set in place,
4 what is man that you are mindful of him,
and the son of man that you care for him? (Psa 8:3,4 ESV)
Isn't He wonderful?
We pray that each day this summer, as you grab your sunscreen, don your flip flops, and make joyful memories with loved ones, you'll be refreshed and renewed with eyes opened to our loving Father and His marvelous creation. We pray that His handiwork will inspire your worship!