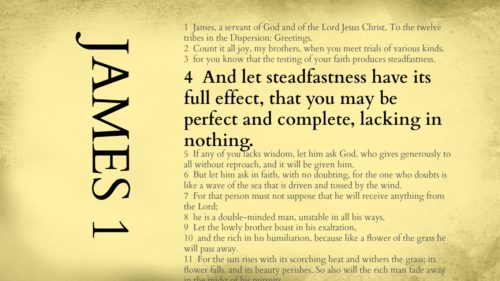 [click on pic then download for full-size wallpaper]
MEMORIZE
Plan A:
And let steadfastness have its full effect, that you may be perfect and complete, lacking in nothing.
James 1:4
Plan B:
for you know that the testing of your faith produces steadfastness.
James 1:3
MEDITATE
Staying under a trial isn't always optional. We often have no ability to alter our circumstances even if we want to.
But enduring a trial with cheerfulness is our choice (James 1:2). If we can maintain our joy in the Lord despite swirling situations around us, we will mature (James 1:4). (We'll see this again in James 1:12.)
PRAY
Lord,
I want to meet my trials with steadfastness so I can be complete in you. You alone can make me whole. Help me keep this promise in the front of my mind this week.
QUESTION
Is there a trial you are having to remain under right now? Do you see maturation at the end of it all? Please share in the comments.
Don't forget our Scripture Memory Link-Up is coming April 27, only 2 weeks from today! Get your blog post written about anything relating to memorizing scripture in general or James 1 in particular. We want to hear from you.
Want to memorize James 1 with us? Get all the details here.