Based on reliable information, I was destined to be a real hell-raiser. But before I could grow up to write a long, empty, broken history, God spared me and drew me to Himself. Like many others who began a relationship with Jesus as a child, I don't have many sordid tales to convince you I was on the path of destruction. Maybe you have a testimony of early salvation and you've struggled with how to tell a story of life change and new beginnings that seems rather dull compared to those of dramatic transformation.
Look no further than your own family history for the answer to your dull dilemma.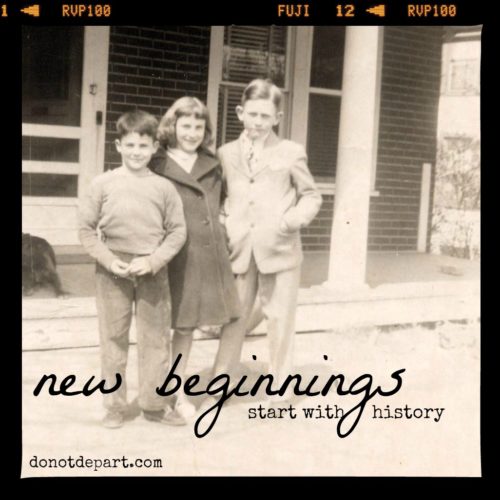 With the ease of accessing information, there has been a resurgence of interest in genealogy and family history. God can use this to reach people! Online sources like Ancestry.com have taken away the barriers of discovering our ancestors. Author George Orwell spoke truth when he said,  "The most effective way to destroy people is to deny and obliterate their own understanding of their history."  Without looking at our history, both recent and far, we fail to shape a solid case for sin. As we uncover our lineage, we trace the pathway of the footsteps we were destined to follow.
Who were you on track to become before you began a new life in Christ?
Out of a love for history and a longing to connect with family, I began a search for my history, hoping to find something noble and redeeming.  What I found was evidence left to me by generations back to the late 1500's. Instead of a long line of saints, I found a yearbook of lost, empty, broken, lives. I needed a new beginning.
I was not only born to "look" like them, but to LIVE like them.
"Or do you not know that the unrighteous will not inherit the kingdom of God? Do not be deceived: neither the sexually immoral, nor idolaters, nor adulterers, nor men who practice homosexuality, nor thieves, nor the greedy, nor drunkards, nor revilers, nor swindlers will inherit the kingdom of God. And such were some of you. But you were washed, you were sanctified, you were justified in the name of the Lord Jesus Christ and by the Spirit of our God." (1 Corinthians 6:9-11, emphasis mine)
I know we're all born as sinners and destined to die because of it, but my family history proves I was born onto a trajectory that set me on a course for vices like alcohol, anger, and abuse. I had no hope of being a fine, upstanding citizen on my own. You?
When God intervened in the life of my parents and then in my life, He saved me from a future that was as sure as my history. He washed me, changed me, and declared me righteous because of what Jesus did. He is the God of new beginnings. Only Jesus can change the course of a life.
Praise God He can and does change the course of lives every day!
So, what's in your story? Who were you destined to become?