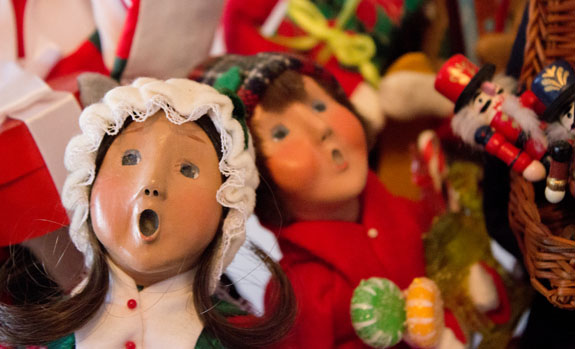 The gift of "Voice" is not trending on this year's Hottest Holiday Gifts list (well, unless you count My Friend Cayla, who uses speech-to-text software).
But consider this: Isn't your voice one of the most sacred gifts you can offer?
Just ask Zechariah. When the angel Gabriel materialized in the temple, announcing that Zechariah and Elizabeth would have a child (at last!), Zechariah answered back with discouraging words. Luke 1:5-20
So for the next nine months, he was unable to speak at all. And how much he had to tell!
Not until the baby was born and Zechariah scribbled to his community, "His name is John," was his tongue untied. Now his words were of praise to God and confidence in all God had done and was going to do. Luke 1:63-64
You can use your voice the same way this Christmas.
But you can't wrap it inside a Christmas box and tie it with a bow.
So how can you give your voice?
Through your in-person conversations
Through your emails
Through your Christmas cards
Through your social media updates
Through your songs
Through your blog posts
Through your Facebook comments
Through your phone calls
Like Zechariah, use your voice to give hope to those needing deliverance, to assure others of God's faithfulness, to relay how God has worked in your circumstances, to promise that God gives mercy, and to remind that He transforms the unrighteous into His righteousness. Luke 1:67-79
Your spiritual voiceprint is as unique as your physical fingerprint. You have an exclusive perspective, a different angle, another tongue to add to the celestial choir singing of God's love.
No other voice can substitute for yours, nor yours for another.
God used His voice to call the universe into existence. He sent Christ into our world as the Word. Now He continues to send His love into the world through your voice and words.
So designate your voice to be a divine gift this Christmas.
Entrust it as a beloved present from God through you to others.  
Consider the following questions for these last two weeks before Christmas.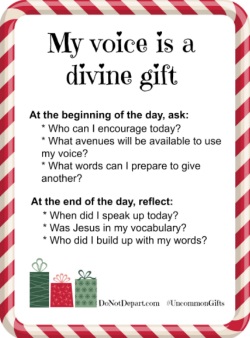 What's the most unusual gift you are giving this Christmas? Please share in the comments.
Related: