The inspired, God-breathed words of scripture pack so much power for us to tap into as we prepare our hearts for Easter. As we provide Bible Study tools this month centered around the Resurrection, new life themed verses provide rich truths for us to use in our prayer life.
Praying new life scripture
Today we want to share a collection of 6 printable bookmarks. Each one provides a visual focus, along with a new life truth and a prayer of response. Just print off the 2 page PDF and cut the 6 bookmarks to separate them. You might print and use these in a variety of ways:
10 ways to use printable Easter bookmarks
tuck into your Bible as you prepare to celebrate the resurrection
attach one to a loaf of bread or bag of hot cross buns
laminate and share with a Sunday School teacher
include in your child's lunch box
leave on the dashboard of your husband's car
pin on the bulletin board at your coffee shop
attach to a bill payment you're sending in
put under your neighbor's windshield wiper
lay on your child's pillow
tape to the bathroom mirror
May the great truths of new life flow easily from our lips, settle into our hearts, fill our thoughts, and soak into our prayers as we prepare to celebrate the resurrection of Jesus!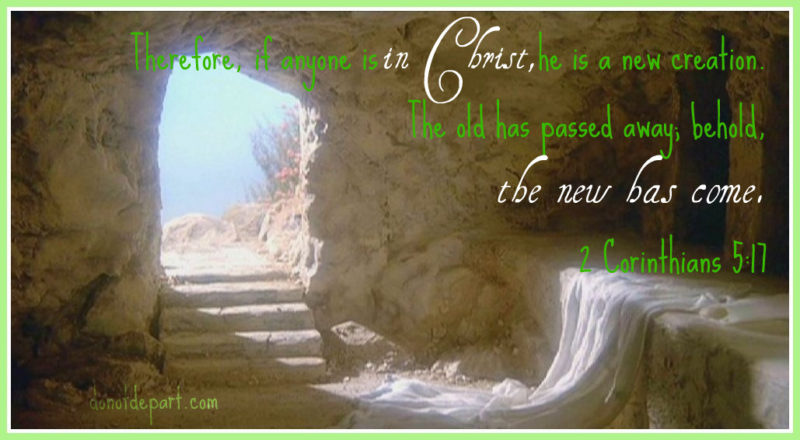 Father in heaven, there is nothing I could have done on my own to make my old life pass away.  It's all because of you that the new has come. Thank you for that you have moved me out of death and into Christ, making me a completely new creation in your eyes. I don't fully understand it, but I'm so grateful.
 By the name of the Christ who brings the new, Amen
Photos provided by free resources from visualbiblealive.org, turnbacktogod.com & Julie Sanders.