Have you signed up yet?
Beginning Monday, January 16, 2017, we'll memorize Psalm 121 together. We'll go slow but steady, at a pace anyone can follow, yet fast enough to know we're making progress.
You can sign up now to memorize Psalm 121. You'll receive links to printable resources, extra study helps, and weekly email reminders of the verses we're learning. We'd love for you to join us on this journey.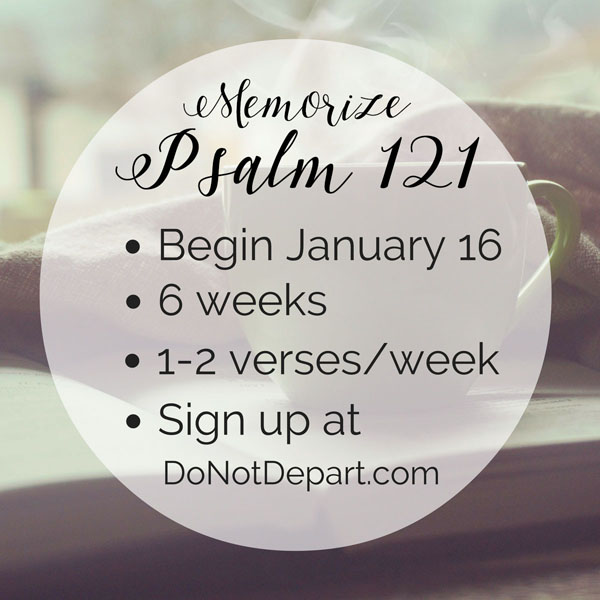 What's Psalm 121 About?
Psalm 121 is one of fifteen psalms titled "A Song of Ascents" (Psalm 120-134). Ascending means "going up." Some commentaries suggest we read these psalms as if one line climbs on the line in front of it. We'll discover such patterns as we dig into this psalm.
Also suggested is that these songs were used as the Levite singers climbed the steps to the temple in Jerusalem. From where the women stood outside the temple to where the men stood, there were fifteen steps. One psalm could be sung on each step.
Regardless of its background, we can use Psalm 121 today as assurance that the Lord is with us and for us as we do our own traveling through life.
Whether we're walking this season through dangerous places or in a peaceful valley, God wants us to know He is our help, strong and active to steady us on the path with Him.
Next Steps
To prepare for next week, read or listen to Psalm 121 each day this week. Let the words begin to seep into your heart. Pray that the Lord will make these truths come alive in your daily life.