I can't exactly remember how, but when my middle daughter was about five or six years old she discovered Shirley Temple. Later, I found a sing-along VHS tape at Walmart for a few dollars that featured the little superstar singing songs like, "Be Optimistic", "Animal Crackers", and "Good Morning."
It's often been the "Be Optimistic" song that gets stuck in my head. Sweet little Shirley assures us that we can chase away grumpiness with a simple smile.
I tend to be an optimistic person. But because I'm a definite realist, I know that taking Shirley Temple's advice of putting on a smile won't solve the bumpy road of life. Yet, I still look on the bright side. Why? and How?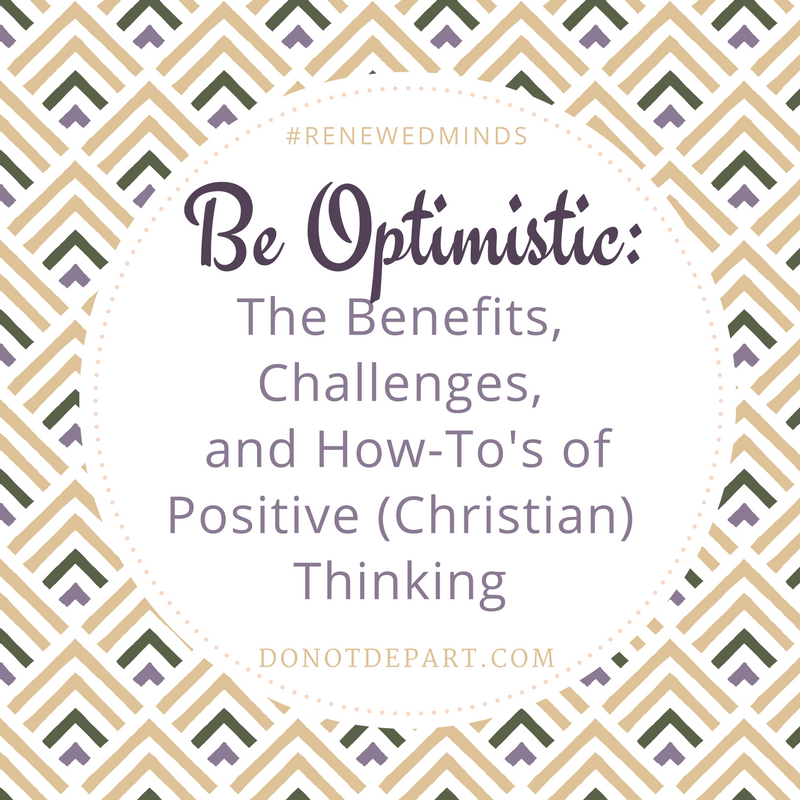 Why be Optimistic?
Jesus tells us to imitate Him. Though Christ was very realistic and gave stern warnings about sin, Satan, and Hell, admonitions against pharisaical hypocrisy, and firm guidance for His disciples and followers, He was also very optimistic. He knew the potential of His message. He knew and understood the power of Father God and the saving power of His own blood. He looked forward with eager expectation to future hope and tells us to do the same.
"No Christian should be a pessimist. We should be realists—focused on the actuality that we serve a sovereign and gracious God. Because of the reality of Christ's atoning sacrifice and His promises, biblical realism is, ultimately, optimism." -Randy Alcorn, see more here.
We too should have great faith in God's power, ability, and goodness. Made as a choice over pessimism, optimism is an expression of the joy borne of faith, and repels doubting.

When our minds are focused on God's nature and the hope-filled truths of His word, we have no reason to wallow in pessimism.
The only proper foundation for optimism is the redemptive work of Jesus Christ. If we build our lives on this solid foundation, we should all be optimists. – Randy Alcorn
And being optimistic gives us a good witness. After all, nothing pushes away others like grumpiness and grouchiness can. Looking forward with positivity and hope and placing our faith in the God who can move mountains is appealing to the hopeless.
Physical and Spiritual Benefits
When we're optimistic those around us are put at ease. If you've ever been around a constant worrier you probably just yelled, "Amen!". A prayer warrior and dear friend of mine who recently went to be with the Lord often added after her prayers, "Now, I love to sit back and watch Him work." She called out, and she knew He would answer. (Rom 8:28)
It's refreshing to be with people like that!
Not only does positive thinking bless others, it blesses us. Life can be so stressful at times, and though keeping hope-filled eyes on the One who calms storms can be incredibly difficult, it is life changing. Our bodies become freed from the ailments that result from stress and downheartedness. We free ourselves from the shackles of limiting God's power and ability. ("Quench not the Spirit." – I Thessalonians 5:19)
Where He is, He is able.
Challenges to Optimism
"But you're naturally an optimistic person! I'm not!" If you're feeling like you can't change your mindset, say Phil 4:13 right now. "I can do all things through Christ who gives me strength."
The biggest challenge to a positive attitude is obviously pessimism. Don't confuse this with realism. Like I said before, I'm a realist, too. But though the glass may truly be half empty it also means it's half full. We have a choice in how we see things.
Looking at life through His light can truly change the way we see the stresses of life. Whether it's financial woes (He's our Provider!), illness (He's our Great Physician!), or whatever else (He's the Alpha Omega, the beginning and the end!), He can handle it (or remove it!) and equip us to handle it, too. (If you're struggling to find God in physical illness, this may help you. I you're wondering where God is when (fill in the blank) look at this.)
How Can We Change Our Mindset?
Pause (stop the stinking thinkin') – When we catch ourselves sliding down the slippery slope into pessimistic thinking, we have to put on the brakes!
Pray – once we realize and stop, we need to pray. We should ask God to fill our thoughts with truth and the knowledge of His powerful ability and goodness.
Praise – If the glass is half full (or less) we still must praise Him for what He's given (and who He is) with gratitude! We can praise Him for His goodness, His Sovereignty, His love and grace, and for His provision and protection.
Peace – We need to choose and pursue peace. Rather than let our minds wander to the wind and waves, we need to focus on the calm sea.
Ponder (and memorize) Scripture – It's easy to sit and worry. It's harder (but much more worthwhile) to fill ourselves up with His Word. We can memorize verses (or learn where to find them) that will help battle pessimism. He'll bring it to mind when we need it.
Though Shirley Temple's "smile" (as cute as it was) won't truly fix pessimism, I'll leave you with a few other resources that may be helpful if optimistic thinking is something you plan to work on this year:
Here's Randy Alcorn's article "Biblical Optimism: The Glass That's Half Full Now Will Forever Overflow."
Here's a guest post from Ayoka Billions right here on DND about "Finding Joy. Every. Single. Day."
And here's a touching word from Charles Spurgeon on Mark 4:39. And the wind ceased, and there was a great calm.
Not only was the wind quieted, and the sea hushed to slumber, but a deep, dead, mysterious calm transformed the lake into a molten looking glass. When Christ stills winds and waves, it is "a great calm." Did you ever feel "a great calm"? It is much more than ordinary peace of mind; it is to your heart as if there were no further possibilities of fear. Your troubles have so completely gone that you can scarcely recollect them. There is no one but the Lord himself who can speak so to produce "a great calm." Master, we entreat thee to speak such a calm so that for those of us who need it.
//Please note, the pessimism discussed in this article is addressing typical pessimistic thinking, not clinical depression. If you suffer from depression, please seek help if you haven't. If you're looking for encouragement you may want to check out the series we did on depression here. //
May God fill your hearts and minds with joy, hope, and optimism this year and always!
Ali
How has focusing on God's nature and the truths in His Word changed your life? Tell us in the comments!