It's been almost one year since tornadoes ripped through neighborhoods hauntingly close to mine. The weathermen had warned April 27 would be bad, but until my own trees and fence blew down, I didn't believe them.
By the end of the day, it was a war zone. Wind versus everything else. On the outside, it appeared wind had won.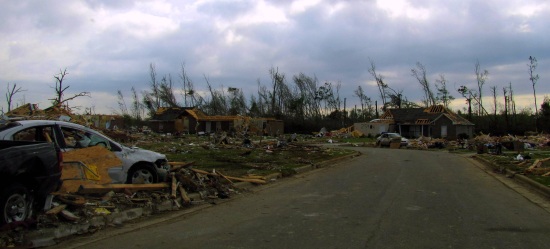 But on the inside—for those hidden in shelters—there was safety.
Who is the enemy?
David knew wars. Enemies surrounded him. Yet he had the audacity to ask, "Whom shall I fear? Of whom shall I be afraid?" (Psalm 27:1).
Um, I could make a list, David. A long list.
And not just for him, but for me, too. I'm leery of new situations, confrontational people, even hints of danger. And that's not even counting "evildoers assailing me to eat up my flesh, my adversaries and foes" (Psalm 27:2).
So what do we do in times of danger, or perceived danger? In Alabama, many are buying tornado shelters. Our instinct is to protect ourselves from vulnerability.
But what did David ask?
David did one main thing. He asked the Lord, "Can I stay in Your presence?" (Psalm 27:4). There was safety. There was shelter.
In God's presence, he could sing with joy, he could cry for guidance, he could learn His ways.
Can we be that dependent? Can we be vulnerable enough to stop striving after stronger fortresses, and instead trust the One already built for us?
Can we let go of trying to be more—if I pray more, study more, mop my kitchen floors more—and instead let God be more?
He didn't tell us to build a spiritual storm shelter. He said He would hide us in His.
He didn't say to bring our own tents. His can cover us just fine.
He didn't even point toward a big rock and say climb up. He lifts us up and places us on top.
So what do we do?
Let's start by repenting. Instead of wasting resources building our own walls of protection, let's ask His forgiveness for our attempts at self-sufficiency. And become dependent instead.
Then let's stand firmer in our faith. Can we let down our guard in a relationship that needs more authenticity? Perhaps we can try a new ministry, trusting He will lead us. Or maybe "waste" more time with Him, simply delighting in His presence.
If we want more peace, more rest, more confidence—and God to receive more glory—let's live and love out of the home base of His shelter.
We don't have to design it.
We don't have to manufacture it.
We don't even have to pay for it.
We just worship in it with joy. God is our shelter. Nowhere else can be safer.
For he will hide me in his shelter in the day of trouble;
he will conceal me under the cover of his tent;
he will lift me high upon a rock.
Psalm 27:5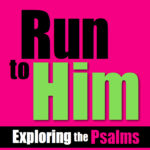 Is it easy or hard for you to abandon self-sufficiency? In what areas do you most realize your dependency on the Lord?
Please share something that helped you this week from Psalm 27.