Welcome! Many of you are visting from Ann's and we are so glad you are here! If you are looking for the latest link-up, CLICK HERE. We also have a vibrant community of Scripture memory kindreds on Facebook. We'd love for you to join us!
I have a treat for you today. My friend Kyndall and I have teamed up to bring you Romans 8:1-25. Kyndall has been rockin' Romans 8, and is pulling this "old fogey" along with her!
Join in the fun!
Not memorizing Scripture? There are loads of great resources and communities available for you! Here are just a few:
Scripture memorization is an incredibly fruitful way to abide in the Word! It isn't a race, but an intentional choice to dwell with Him through His Word. So, take the plunge with us, and join in the fun!
Share Your Journey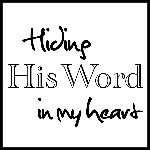 Are you memorizing scripture? We want to hear about it! Have a memorization tip to share? Are you stuck and need some help? Let's chat in the comments!
Leave a comment, or link-up your posts, vlogs, and instagrams. Anything that shares about your Scripture memory journey!
This is a great chance to encourage one another, so be sure to visit and comment on the link before and after yours! Grab some flair for your post, so others can find us!