WHY?
Want to immerse yourself daily in God's grace?
Remind yourself more often of the blessings you have in Christ?
Discover who you are in Him and why you are here?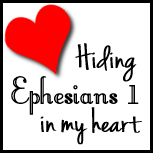 Memorize Ephesians 1 with us for 12 weeks, beginning September 16.
By learning two verses a week, we'll embed beautiful truths about Jesus and with Jesus deeper into our hearts.
GROUPS
For weekly accountability, join our Hide His Word Facebook group, follow #HideHisWord on Twitter, and log into our ScriptureTyper group.
RESOURCES
Print or download as many of these free resources as you'd like.
Also check out Scripture Stickies for purchase. This is a set of removable sticky notes especially for our challenge. I have mine already and love them. Use this code—DONOTDEPART—to get a 10% discount when checking out.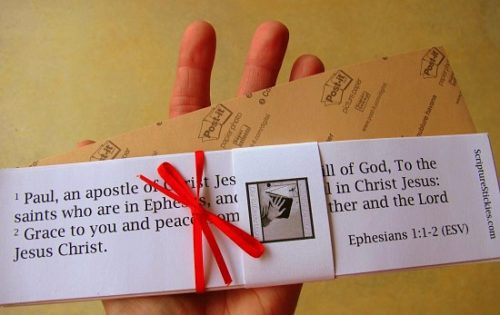 SPREAD THE WORD
We'd be honored if you'd mention our memory challenge on your blog (download the button here). And tweet or Facebook this:
Want to memorize a chapter of the Bible? Sign up for Ephesians 1 @DoNotDepart. http://wp.me/p1Su7F-2BS #HideHisWord
Link up on Wednesday, September 18, with your own blog posts about this challenge or anything (new or old!) on your blog about scripture memory. Let's share with those who are new to memorizing scripture that this is possible at any age.
If you'll be joining us or have questions, let us know in the comments.