TODAY WE BEGIN!
1  Paul, an apostle of Christ Jesus by the will of God, To the saints who are in Ephesus, and are faithful in Christ Jesus:
2  Grace to you and peace from God our Father and the Lord Jesus Christ.
Ephesians 1:1-2 (ESV)
As we start memorizing Ephesians 1:1-2, let's remember the Word underneath the words, the One who brings grace and peace to each of us as His children.
And if you haven't registered yet, it's not too late! Do it today. Details are here.
LINK-UP IS COMING
Have you written a blog post about your decision to join this challenge?
Is there a post(s) in your archives explaining how or why you memorize?
Please share them here this Wednesday, September 18, in our link-up.
Many first-time memorizers will be looking for help. So prepare to spread what you know. Newbies and oldies alike will benefit from your words.
May He bless you this week through the time you spend with Him.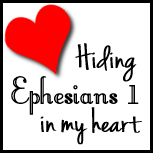 Questions? Comments? Please let us help.