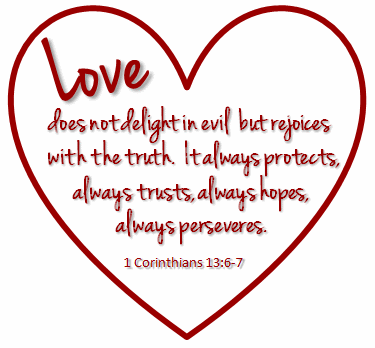 What words do you hear yourself say most often?
Jesus said we can be defiled by what comes out of our mouth (Matthew 15:11). David prayed that the words from his mouth would please the Lord (Psalm 19:14). Psychological studies show we grow to believe what we say.
What might happen if we said the following words aloud to ourselves this week?
Love does not delight in evil but rejoices with the truth.
It always protects, always trusts, always hopes, always perseveres.
1 Corinthians 13:6-7
Would it remind us to . . .
Be happier when we see truth win over evil
Not give up on others
Trust more often
Look for the best
Keep going to the end?
Let's find out. Print these verses and place them somewhere you'll notice. Pray through them daily. It's not a magic formula but it is an opportunity to see how God will work!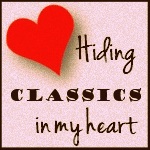 This is Week 10 of Hiding Classics in My Heart. We're memorizing 1 Corinthians 13:6-7. Will you join us?
Which aspect of love in these verses do you need to practice most this week?
Please leave a comment below with your thoughts.