Each November in the United States we celebrate the Thanksgiving holiday. It is a time when family and friends gather together to enjoy one another, to share a meal, and ostensibly to reflect on the things for which we are thankful.
It is easy to talk of being thankful for the people we love and the things we have. But the scriptures paint a picture of a gratitude that goes far deeper than the superficial thanks many give as they prepare to carve a turkey.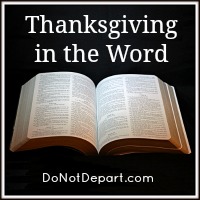 Throughout this month the Do Not Depart team will take a look at what God's Word has to say about true thanks-giving.  For what does God ask us to give thanks? How can we be thankful in all circumstances? Is it even possible to be thankful for suffering?
There are many scriptures about giving thanks. What is your favorite verse? Please share in the comments.