"It always protects, always trusts, always hopes, always perseveres. Love never fails." – 1 Corinthians 13:7-8 (NIV)
When you love someone with special needs or illness (or are living with a chronic condition of your own), you know how much energy and love it takes to provide care (or self-care).
Sometimes you're just tired. Frustrated. The opposite of unfailing.
God gives His unfailing love so we can share it with others and all it includes. His love is action. His love is divine. His love is unfailing.
Unfailing love is about protection, trust, perseverance, and hope.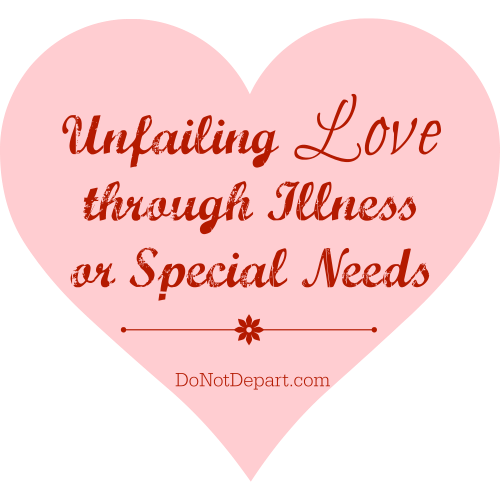 Unfailing Love Protects
"How priceless is your unfailing love, O God! People take refuge in the shadow of your wings." – Psalm 36:7 (NIV)
If you're a parent or caretaker of any kind, you know that deep need to protect those you love.
You cover outlets to protect little fingers from exploring where they shouldn't.
You teach safety when riding a bike.
You guide in critical thinking to protect from reckless choices.
In the special needs world, you might do this by providing healthy sensory input to channel wild energy, choosing homes best suited for mobility challenges, avoiding crowds and locations at certain times of year to protect against respiratory infections.
You protect because you love. Just as God protects us in so many more ways because He loves.
But what if you can't protect your loved one from degenerating medical conditions, from physical challenges, from self-harm?
Unfailing Love Trusts
"But I trust in your unfailing love; my heart rejoices in your salvation." – Psalm 13:5 (NIV)

"Let the morning bring me word of your unfailing love, for I have put my trust in you.
Show me the way I should go, for to you I entrust my life." – Psalm 143:8 (NIV)
We can't really control much in our lives, but we can trust. And that trust brings joy and guidance.
Trusting God and His plan frees us up to love more and deeper. Trusting helps us not have to ask, "Does God even care?" Instead, we can trust He's an active God, which allows us to love with the gifts He's given us as much as we can.
Unfailing Love Perseveres
"Your love, Lord, reaches to the heavens, your faithfulness to the skies." – Psalm 36:5 (NIV)
When caring for anyone with special needs or chronic illness (or dealing with those chronic conditions yourself), perseverance is a necessity.
You can't take medication just one day and expect to be well.
You can't go to one therapy session and expect years of progress.
You can't ignore doctor's advice and expect the conditions to disappear.
Living with special needs or illness requires a perseverant love.
God's love reaches to the heavens and beyond what we can see or imagine. His love spreads over us even as we're trying the twentieth communication device, the fifth heart medication, or the seventh new developmental therapy. God loves in it, through it, and after it. And we can love by persevering by Him and those we care for.
Unfailing Love Hopes
"But this I call to mind, and therefore I have hope: The steadfast love of the Lord never ceases; his mercies never come to an end; they are new every morning; great is your faithfulness. "The Lord is my portion, says my soul, 'therefore I will hope in him.'" – Lamentations 3:21-24
In all of this protecting, trusting, persevering, we also love with hope.
Hope in love's reach, hope in coming restoration, hope in Him.
Why?
Because God's mercies never end.
Because His faithfulness always lasts.
Because His hand is always there to offer another dose of hope — through His word and through His people — just when we need it.
How do have you seen (or experienced) His unfailing love in circumstances of illness or special needs?