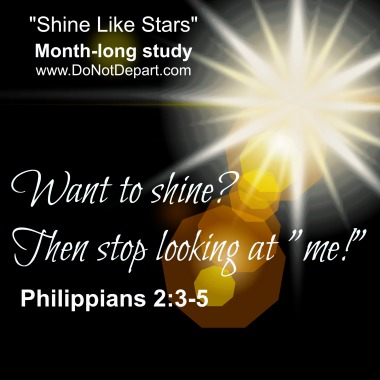 On Black Friday, November 2008, hundreds of out-of-control bargain hunters busted through the front doors of a Long Island Wal-Mart. The frenzied mob barreled through a line of employees in the entry knocking some to the ground and sending others fleeing for their lives. In the stampede, one young male employee was trampled to death.
No, they weren't trying to escape a raging inferno or a madman with a gun. They just wanted to get to the bargains. A man lost his life because someone desperately wanted a big screen television.
We live in a self-absorbed culture. Our society teaches us to put ourselves first, to pamper ourselves, to step on others to get ahead. Figuratively, and apparently, literally.
Although extreme, this Black Friday tragedy is an example of our selfish sin nature in action. With no concern for others, each person selfishly acts to fulfill their own desires, charging ahead no matter whom might get hurt in the process. Every man – and woman – for himself.
What does it look like when everyone is looking out for "number one?" Simply take a look around. It's the status quo for the good 'ole USA.
But God operates on a different paradigm. His truth often – uh, make that usually – runs contrary to the accepted norm in the world around us.
Do we want to fit in with the world? Then we can simply keep putting ourselves and our own needs and desires first. We will blend right in with the darkness around us.
But what if we want to be a light in the darkness? What if we want to "shine like stars" and "hold out the word of life" to the lost souls around us? (See Philippians 2:15-16.)
The apostle Paul puts it this way in the second chapter of Philippians:
3 Don't be selfish; don't try to impress others. Be humble, thinking of others as better than yourselves. 4 Don't look out only for your own interests, but take an interest in others, too. 5 You must have the same attitude that Christ Jesus had. Philippians 2:3-5, NLT
God calls us to live a counter-culture life:
Turn "me first" into "you first"
Turn "look what I can do" into "what can I do for you?"
Turn "pride" into "humility"
This is the way Jesus lived. And our attitudes should be like His. Yet, real discipleship doesn't mean we just live like Jesus or follow His example. Real discipleship means we step out of the way and let Jesus live His life through us.
My old self has been crucified with Christ. It is no longer I who live, but Christ lives in me. So I live in this earthly body by trusting in the Son of God, who loved me and gave himself for me.  Galatians 2:20
You see, we have no real light of our own. We shine like stars when we allow The Light of the Word to shine through us (John 8:12).
Want to shine? Then stop looking at "me" and look at Him.
What one thing can you do today to stop looking at yourself?