1 So if there is any encouragement in Christ, any comfort from love, any participation in the Spirit, any affection and sympathy, 2 complete my joy by being of the same mind, having the same love, being in full accord and of one mind. (Phil 2:1,2)
We're all different.
Even as Christian sisters we're different. We look different; we're gifted with different gifts, given different talents, and have different opinions. We dress differently, vote differently, and worship differently.
But, different though we are… we're called to be the same. How can this be?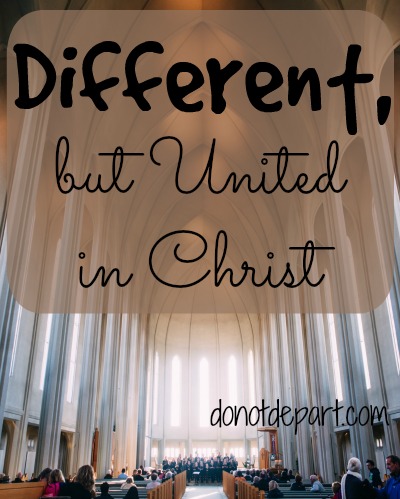 …Because we're all one in Christ. And since we're all in Him, we're all called to reflect Him.
"Now you are the body of Christ and individually members of it." (1 Cor 12:27)
Yes! We're the body of Christ! (See also Col 1:18 Rom 12:3-5.) We are different, but united.
"For I feel a divine jealousy for you, since I betrothed you to one husband, to present you as a pure virgin to Christ." (2 Cor 11:2)
Paul tells us here that Jesus is the bridegroom, and we –His entire, collective church– are the bride. (See also Eph 5:25 and John 3:29)
And as both His body and His bride we're called to be united with Christ in the same mind.
And what's the mind of Christ? Phil 2:1 gives us four truths. Can you find them?
Christ:
encourages
comforts us with His love
dwells in us through the Holy Spirit
has great affection and sympathy
He constantly pours out these generous manifestations of His love to help us, strengthen us, protect  us,  and to remind us we are never alone. We have Him and we have each other. And He wants us to have His mindset since we are joined with Him and are called by His name. Having a Christlike mind is one way we can shine His light in this dark world. We can be a reflection of Him, magnifying and glorifying Him.
At times it's easy to take this love God lavishes on us and not pour it back out on others. I mean, some people are just unlovable, right? And sometimes the effort is way too big. Or we're just too tired, or busy. Sometimes we heatedly disagree. But this is not what He desires of us! God longs for His children to imitate His Son. Paul reminds the Philippians to have the same mind and same love—despite their differences and disregarding the inconvenience. We, too, can disagree without division because we have the same ultimate goal of love and grace in Christ.
If Believers shun discord and focus on uniting together in the mind of Christ, the body of Christ is empowered. With His aid we can overcome obstacles and differences, and shine God's grace, righteousness, and holiness. Let's focus today on emulating Christ's sacrificial love—sharing it with the family of God and a needy world.
Ali
**If you'd like to use this week's post as your Bible study, here are 5 days' worth of homework for the week (or choose as many as you'd like to keep you going until the next post) :
Read Phil 2:1,2. How have you seen evidence of these four truths in your own life? How has Christ encouraged you, shown you sympathy, etc.?
How does the mindset of Christ in Phil 2:1 show sacrificial love? Who do you need to show this type of love to today? How would your day be different if your love was more like His?
The Greek word for mind in verse 2 is phroneo. According to HELPS-word studies, "This idea is difficult to translate into English because it combines the visceral and cognitive aspects of thinking." In other words, this mindset is one that involves both instinctive emotions and perceptive reasoning. What does this mean to you from a practical perspective?
How should being the body and bride of Christ influence our actions toward other Believers? How should it influence our actions toward non-Believers? (Think 'shine like a star', here.)
Read Ephesians chapter 4 (regarding unity in Christ). Why should we be united in Christ Jesus? (See verses 14, 16, 24, 27, and 32.) Which verse can you meditate on today?