One of my favorite biblical "word pictures" is "shining like stars" from Philippians 2:15:
"Do everything without grumbling or arguing, so that you may become blameless and pure, 'children of God without fault in a warped and crooked generation.' Then you will shine among them like stars in the sky as you hold firmly to the word of life." – Philippians 2:14-16 (NIV)
This image was one of the first to strongly impact me as a new believer years ago, and it has an even stronger effect on me now as I've grown, walked through types of darkness, and seen just how special and essential light is.
It's also one of the first analogies that we teach our children. Even young kids can understand that a small light — a single flashlight beam, a candle flame, or a night light — can cause darkness to vanish, and fears to ease along with it. 
Light is powerful; God's light even more so. Paul calls us to shine like stars in the community of believers to reflect Christ's original light through us. Through doing so, we imitate His humility, His welcoming love, and His unending grace.
So this month, we are studying Philippians 2 (verses 1-18) together so we can remember how and why to shine like stars. Join us and shine with us!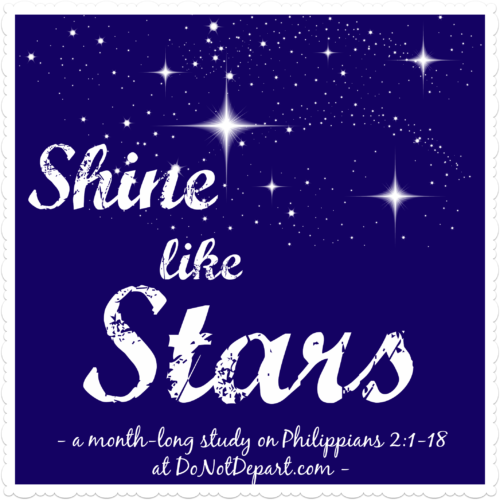 What verse in Philippians 2 affects you strongly? Share in the comments!