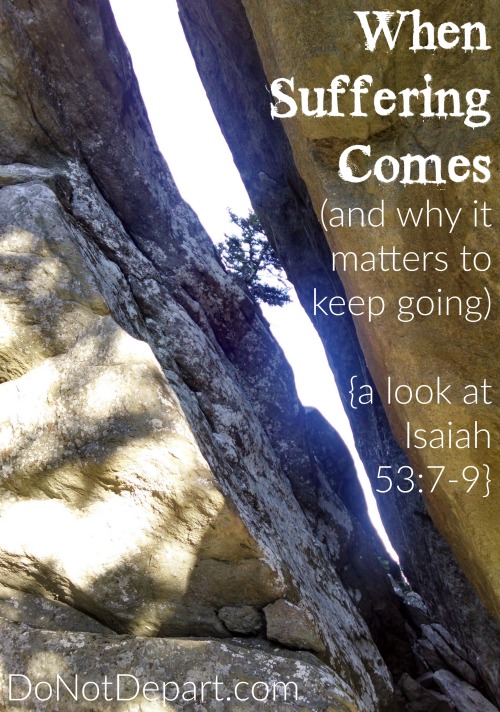 "He was oppressed, and he was afflicted,
    yet he opened not his mouth;
like a lamb that is led to the slaughter,
    and like a sheep that before its shearers is silent,
    so he opened not his mouth.
By oppression and judgment he was taken away;
    and as for his generation, who considered
that he was cut off out of the land of the living,
    stricken for the transgression of my people?
And they made his grave with the wicked
    and with a rich man in his death,
although he had done no violence,
    and there was no deceit in his mouth." – Isaiah 53:7-9
It's plain hard to read those verses.
Most scholars consider these Isaiah 53 verses to reference the coming Messiah, who we know to be Christ. But these verses remind us that He was a Messiah who suffered greatly.
He was called the lamb of God by John the Baptist (John 1:29, 36).
He was led to trial and yet did not open his mouth to refute (Matthew 27:12-14, Luke 23:8-9).
He was given an unfair trial full of oppression and judgment.
All this, even though He was blameless and without fault (1 Peter 2:22).
Can you imagine seeing such a trial happen when you knew He had no fault?
We know how we feel when we go through suffering. Sometimes it hurts so much during that we can only see, feel, and think of the hurt. What? How long? Why?
Even for us, on the other side of Christ's resurrection, it hurts to read how He suffered. And why?
Well, that's the good news.
Why We Can't Stop Reading (or Living) There
We know from Isaiah 53:5 that He was pierced for our mistakes, for our failings, and that, as Lindsey discussed last week, by His wounds, we are healed. 
Why? It was for us. To save. To make whole. To love.
But it still helps to keep reading, to keep living through the hurt.
Because, as Patti will discuss later this week, it happened because it was God's will (Isaiah 53:10).
God who is gracious,
compassionate,
slow to anger,
and rich in faithful love (Joel 2:13).
God who hears,
who forgives,
who heals (2 Chronicles 7:14).
God who loves more than we can ever see, reach, or know in this age (Ephesians 3:17-19).
This God, who we can trust and who loves, gave us a Christ who suffers as we do and have (and more) and yet remained and remains perfect (Hebrews 4:15-16) to guide, heal, and pour grace all over our Easter and our everyday.
"…And I pray that you, being rooted and established in love, may have power, together with all the Lord's holy people, to grasp how wide and long and high and deep is the love of Christ, and to know this love that surpasses knowledge—that you may be filled to the measure of all the fullness of God." – Ephesians 3:17-19 (NIV)
How do you keep your eyes on God's faithful love through suffering? Please share and encourage in the comments below.
For more study/reflection:
Read through each of the verses referenced above. Write down the characteristics of Christ and the characteristics of God that you see.
To think about or journal: What's something you're suffering through this week, and what's one verse you can memorize or repeat to yourself this week when you need a reminder to see Him during the suffering?
For me sometimes, I forget to go directly to Him during suffering, as if He wouldn't want to help. What's one way you can "approach God's throne of grace with confidence" this week?