I'm sure you've probably heard the stories too….stories of people who gave up their lives or sacrificed their bodies for another. 
Last fall, a car barreled through an OSU homecoming parade in Stillwater, Oklahoma, injuring and killing many innocent bystanders.
One of those who was injured was 6-year-old Hadley Wyatt. Her family believes the reason she is alive today is because of a man named Leo Schmitz who put himself in harm's way and blocked a motorcycle that was flying toward them.
Stories like this one always make me think, would I do that for someone I didn't know? 
The thing is, I don't know if I would. I'd like to believe I would. But if I'm being completely honest, I don't know.
One thing that always amazes me about Jesus is that he did that for me.
He gave up his life for me…even though he knew I would continue to sin against him…even though he knew it was MY SINS that put him up on that cross.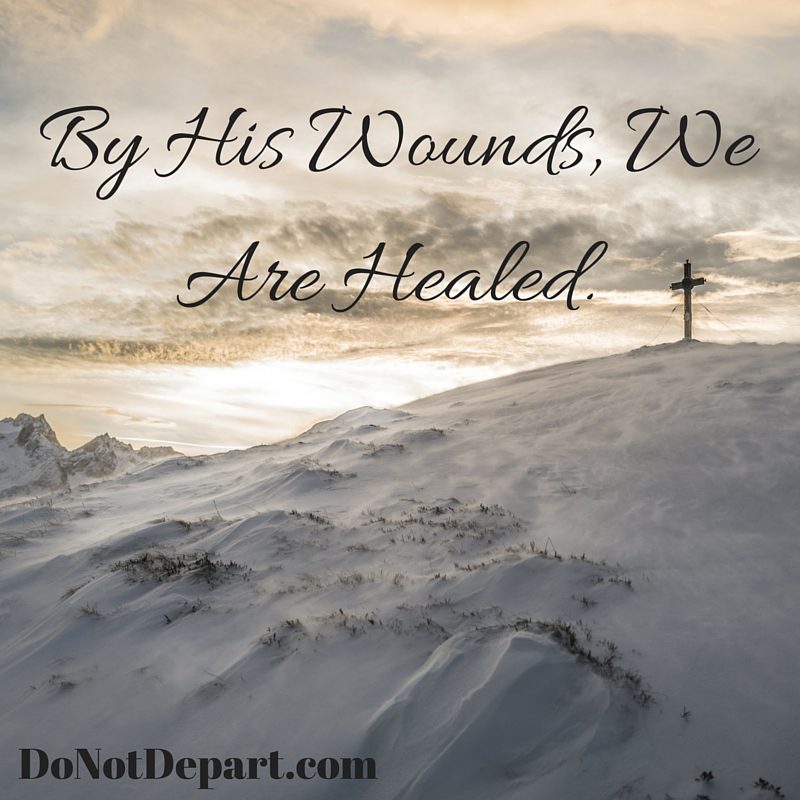 This month, here at Do Not Depart, we've been studying Easter in the Old Testament, and specifically Isaiah 53. Today, I want to look closely at Isaiah 53:4-6:
Surely he took up our pain
    and bore our suffering,
yet we considered him punished by God,
    stricken by him, and afflicted.
But he was pierced for our transgressions,
    he was crushed for our iniquities;
the punishment that brought us peace was on him,
    and by his wounds we are healed.
We all, like sheep, have gone astray,
    each of us has turned to our own way;
and the Lord has laid on him
    the iniquity of us all.
As I read through this text to prepare for this post, God opened my eyes to some things I had never noticed before.
4 Key Truths from Isaiah 53:4-6: 
Jesus didn't ONLY bear my sins on the cross that day. He also bore my pain and my suffering (verse 4).
I first read about this concept in Matt Bays' new book, Finding God in the Ruins.
Isaiah 53 tells us that Jesus bore our suffering…that he took up our pain.
Often, when we're hurting, we cry out to God and ask, "Where are you, God?" Where is God when we're crying in the middle of the night because of a health crisis or infertility or the death of someone we love?
What this text tells us is that he's quite literally hurting with us.
He bore our sins on the cross that day, BUT he also bore our pain and our suffering. The weight we think we are carrying alone…He carried with Him onto the cross.
He really does get how you're feeling, because he felt it too.
We don't really deserve anything good in this life (verse 5).
We don't deserve a good home, steady income, family of 2.5 kids, healthy marriage, good health, etc. We like to think we do. We like to tell ourselves we are good people, and how could God NOT grant us these things? But the truth is, what we deserve, based on verse 5, is to be pierced and crushed.
Jesus took the punishment we deserved and gave us the grace we didn't deserve.
Healing really is possible (verse 5).
"By His wounds, we are healed."
I love that this is written in present tense. It doesn't say, "By his wounds, we WILL BE healed." No, it says, "We are healed."
Now.
Healing might not be complete until we reach heaven's gates, but that doesn't mean it's not at all available right now. We can be healed now.
By his wounds, we are healed.
We're all guilty (verse 6).
Our sins might not "look" as bad as another's in our eyes, but – as far as the cross is concerned – they all put Jesus there.
Our "little" sin put Him there just as much as someone else's "big" sin.
Because of that, there's not really any room for judgment on our part. "We all, like sheep, have gone astray."
But thanks be to God we have a good shepherd who is willing to come searching for us!
Questions for Further Reflection/Study: 
What are some of the ways you have gone astray? Pray about each of these things and ask God for forgiveness.
Read Luke 15:1-7. What did the shepherd do in this text? How has God searched for you in your lifetime?
In what ways has God provided healing to you recently? (Has he healed something in your heart? Has he offered freedom from a sin? Has he healed a broken relationship? etc.)
What other insights did God bring to mind as you read this passage of Scripture?