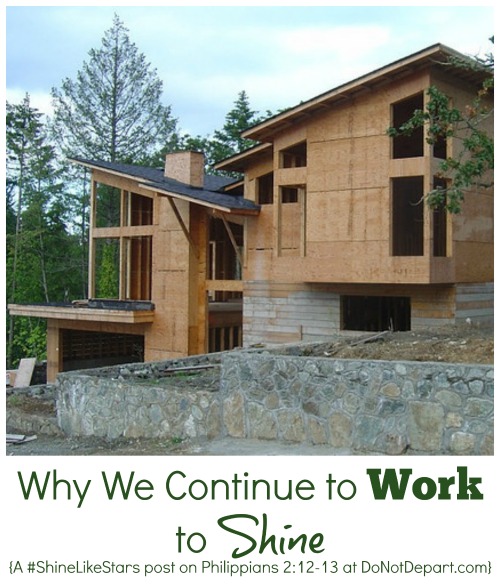 I'm a to-do list person by nature. It's sometimes hard for me to incorporate downtime because I feel like to be effective, productive, and helpful, I should always be doing something. (I have to remind myself of verses where Jesus rests, too!)
And then there's the issue of self-sufficiency. As a girl who never wanted to be seen as weak or incapable, I've always felt if something needs to be done, then I'll have to be the one to do it.
While this is true in some circumstances and absolutely helpful to do things for my family, neighbors, and more, if I'm not careful I lean too much on myself.
You know what happens when I lean too much on myself?
I'm plain tired.
Working in Obedience
"Therefore, my beloved, as you have always obeyed, so now, not only as in my presence but much more in my absence, work out your own salvation with fear and trembling…" – Philippians 2:12
Obedience takes work. Obeying does not come easily to our self-centered world, but it's essential. More importantly, obedience is a reaction to His love and efforts for us.
It's also a constant journey. The TNIV Study Bible says working out our salvation is "not a reference to the attempt to earn one's salvation by works, but to the expression of one's salvation in spiritual growth and development. Salvation is not merely a gift received once for all; it expresses itself in an ongoing process in which the believer is strenuously involved…" (p. 2000).
When we look to Him in every situation, we remember that He works through us. He gives us the choice to follow Him or to close ourselves off.
He works through us to show others His good purposes and remind us that He is present and has righteous reasons.
"…for it is God who works in you, both to will and to work for his good pleasure." – Philippians 2:13
Working Together
So, yes, we have to work. We have to do our part in serving, loving, forgiving, growing.
We work by listening to His Word, His love, seeking His guidance, and following Christ's example.
Because of community, we can work together. And because of God, we work with Him – our loving, present Father – and with His love shining through us (Philippians 2:15).
 How do you see God working through you today?
Want deeper study on this topic?
Look at 2 Peter 1:5-8. Acquiring goodness, knowledge, self-control, perseverance takes effort. These characteristics also build on each other. Where/How can you obtain these characteristics? Is it a "once and done" event or a journey of continuous growth?
Read Colossians 1:28-29. To share about Christ, we have to use Christ's energy. How can you do that today?
The TNIV Study Bible says of Philippians 2:13: "Intention, or faith, and our obedience cannot be separated." Read Galatians 5:6. What does "faith expressing itself through love" look like for you or from you to someone you might encounter today?