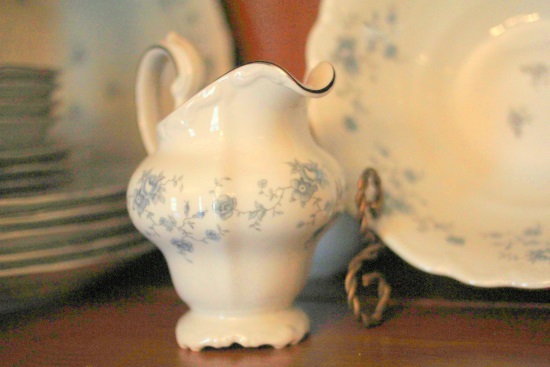 You're encouraged often to be pure. To abstain from this. To avoid that. You know what not to do. And rightly so.
But why? What's the point of maintaining purity? Is it only about what you don't do? What about what you should do? And what happens when you're already impure?
PURITY'S PURPOSE: TO LOVE
Purity's purpose, like all else Jesus taught, is so you can love others more and reflect the glory of God (1 Timothy 1:5).
We've been reading over and over in John 15 (and memorizing) where Jesus clearly states His intentions for all: Love one another (John 15:12).
He's declared you clean for that reason (John 15:3).
He abides in you for that reason (John 15:5).
He laid down His very life for that reason (John 15:13).
So you can love. Out of a pure heart can come pure love. "Blessed are the pure in heart, for they shall see God" (Matthew 5:8). Once you've seen Him, you can show Him to others.
He wants to use you around His table to love another.
You are God's good china.
BUT IF YOU'RE DIRTY
If you, like each of us, have dirt on your plate (Proverbs 20:9), know this: You're still a valuable dish!
No one is pure by his own doing; you are only pure because God says so.
Don't stay hidden on a shelf behind cabinet doors because you think you're too stained. Maybe you think you lack energy or beauty or skills to love others the way God wants you to. You've got a damaged past that brings consequences. And hidden temptations even now that are hard to beat. Welcome to humanity. Everybody lacks. Too tired tonight, too mad tomorrow, too insecure right now to send out a party invitation.
Does that mean you give up altogether on purity? Certainly not. Don't sin more so grace can abound more (Romans 6:1). Keep doing the dishes and wiping off the table.
But rest in knowing that even though God sees the inside of your cup as well as the outside, He still chooses you anyway (John 15:16). He loves you anyway. He will love through you anyway.
SERVE UP GRACE
Jesus—grace personified—did maintain a completely pure life so that through His purity, you are clean. Abide in His love to more purely love others (1 Peter 1:22).
You keep throwing the party; trust God to multiply the fish and loaves. As He loves you as you are, learn to love others as they are.
So set the table and invite another to gather around. Let go of any shame over your broken pieces and let God use you to nourish another. A nicked plate can still serve great food. Something greater, higher, bigger.
It's not about the dishes anyway. It's about the fellowship around the table. Jesus is the host, the bread, and the wine.
It's a serving of grace; is there anything sweeter or purer?
Grace, dished out even on chipped china, is an irresistible meal.

Do you allow your past to prevent you from loving in the present?
Who needs you today to serve a meal of grace?
Please share in the comments.