Our personal purity has a purpose.  To live God's way in an ungodly world, we need to engage the power of prayer in our lives. Not only do we need help to resist temptation, but we need God's work in us to give us a truly pure heart. We only have to look to God's own Word to find powerful verses to pray for Personal Purity.  At the end of this post you'll find an easy printable list to make these verses part of your prayer time.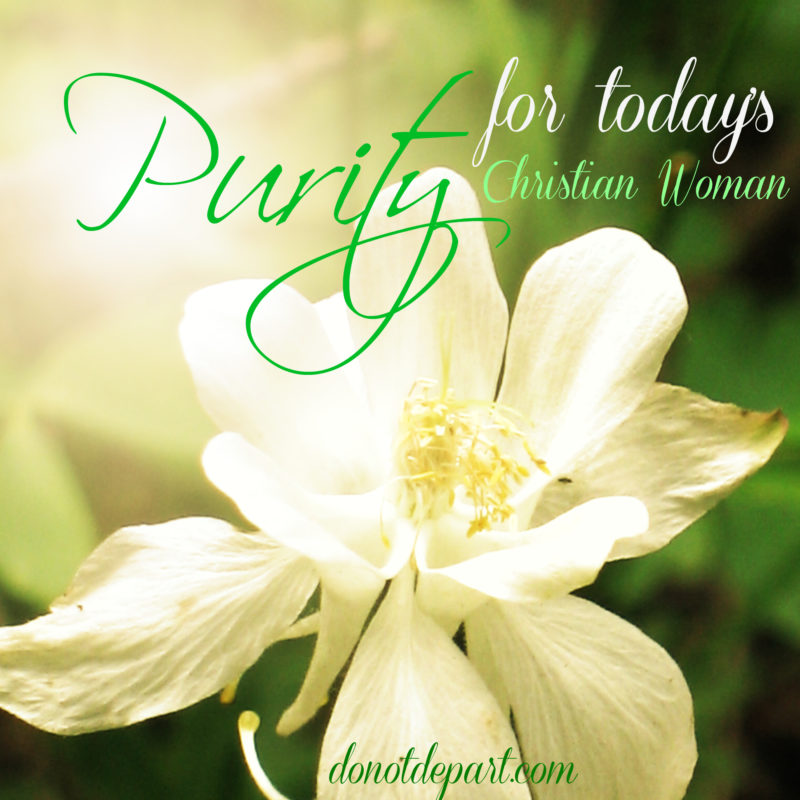 I will not set before my eyes anything that is worthless. (Psalm 101:3a) ~ Help me choose things of value for my learning and entertainment.
Let the words of my mouth and the meditation of my heart be acceptable in your sight, O LORD, my rock and my redeemer. (Psalm 19:14) ~ May my words & thoughts please You.
Search me, O God, and know my heart! Try me and know my thoughts! And see if there be any grievous way in me, and lead me in the way everlasting! (Psalm 139:23, 24) ~ Please show the true condition of my heart and lead me to being pure of heart.
How can a young man keep his way pure? By guarding it according to your word. I have stored up your word in my heart, that I might not sin against you. (Psalm 119:9,11) ~ Help me to know, remember, and obey the truth of Your word.
They have become callous and have given themselves up to sensuality, greedy to practice every kind of impurity. (Ephesians 4:19) ~ Keep me from becoming callous to sensuality and impurity.
Do not be conformed to this world, but be transformed by the renewal of your mind, that by testing you may discern what is the will of God, what is good and acceptable and perfect.
(Romans 12:2) ~ Renew my mind daily so I will know what is acceptable to You.
Turn my eyes from looking at worthless things; and give me life in your ways.
(Psalm 119:37) ~ When I am tempted to look at worthless things, help me turn away and find life in Your ways.
All the ways of a man are pure in his own eyes, but the Lord weighs the spirit.
(Proverbs 16:2) ~ Please weigh my spirit and show me how to be pure in Your eyes.
So flee youthful passions and pursue righteousness, faith, love, and peace, along with those who call on the Lord from a pure heart.
(2 Timothy 2:22) ~ Help me flee temptation & pursue righteousness, faith, love & peace.
Create in me a clean heart, O God, and renew a right spirit within me. (Psalm 51:10) ~ Create a clean heart in me.
Or do you not know that your body is a temple of the Holy Spirit within you, whom you have from God? You are not your own, for you were bought with a price. So glorify God in your body. (1 Corinthians 6:19-20) ~ Give me a desire to glorify You with my body.
Let not sin therefore reign in your mortal body, to make you obey its passions.
(Romans 6:12) ~ Help me to be obedient with my passions.
A man without self-control is like a city broken into and left without walls. (Proverbs 25:28) ~ Teach me to have self-control that comes from your Spirit.
Watch and pray that you may not enter into temptation. The spirit indeed is willing, but the flesh is weak. (Matthew 16:41) ~ Give me a desire to be a person of prayer so I will refuse temptation.
No temptation has overtaken you that is not common to man. God is faithful, and he will not let you be tempted beyond your ability, but with the temptation he will also provide the way of escape, that you may be able to endure it. (1 Corinthians 10:13) ~ When I am tempted, show me clear ways of escape and show me Your faithfulness.
Download your printable copy of 15 Verses to Pray for Personal Purity