So, what could an ancient male slave teach today's Christian woman about purity? Remember Joseph's story? He was the Israelite boy sold by his brothers into slavery, and then bought by Potiphar, the captain of Pharaoh's guard, to be one of his personal household servants. (Story found in Gen 39.)
Time hasn't altered God's views of holiness because God doesn't change. So here, thousands of years later, we modern Christian women can learn much about purity and restraint from Joseph's brief encounter with Potiphar's wife.
Joseph
The Lord prospered Joseph until he became the overseer of all Potiphar had. Nothing was held back from Joseph, except, of course, Potiphar's wife. (Gen 39:9)
7And after a time his master's wife cast her eyes on Joseph and said, "Lie with me." 8But he refused and said to his master's wife, "Behold, because of me my master has no concern about anything in the house, and he has put everything that he has in my charge. 9He is not greater in this house than I am, nor has he kept back anything from me except you, because you are his wife. How then can I do this great wickedness and sin against God?" 10And as she spoke to Joseph day after day, he would not listen to her, to lie beside her or to be with her. Gen 39:7-10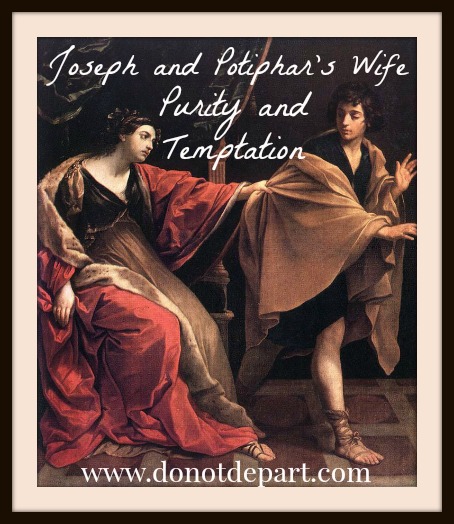 When approached with the opportunity to sin, Joseph refused. The Bible shows us that Joseph's immediate responses were verbal and physical refusal, and acknowledgement that this sin would be both wicked and directly against God.
Yet, Potiphar's wife was persistent and continued to try to lure Joseph.
12she caught him by his garment, saying, "Lie with me." But he left his garment in her hand and fled and got out of the house.
Joseph not only refused with words and actions, but took things one step further by refusing Potiphar's wife of his presence.
When sin attempts to lure us, like Joseph, we can reject it by:
Saying we reject it
Not listening to or heeding it
Rejecting it with our actions
Removing ourselves from it entirely
It was Joseph's heart for honoring God that kept him pure. When we have a pure heart and pure motives, pure actions follow.
"If we mean not to do iniquity, let us flee as a bird from the snare, and as a roe from the hunter."  ~Matthew Henry
Before these words were penned by Paul, Joseph lived them out: "Flee from sexual immorality. Every other sin a person commits is outside the body, but the sexually immoral person sins against his own body." (1 Cor 6:18)
Potiphar's Wife
Potiphar's wife, on the other hand, did not have a heart for honoring God. Rather, she lived to please herself. Her motives were all about self-indulgence and temporary pleasure, and she had no moral boundaries already in place.
Joseph was a handsome man (Gen 39:6) and she noticed it. Not only did she notice Joseph, she took what could have been innocent observation to another level when she "cast her eyes" on him.
After noticing, and then lusting after Joseph, Potiphar's wife then showed complete disregard for personal restraint when she invited him to sleep with her, again and again, day after day. (Gen 39:10)
Potiphar's wife continued to intensify the situation when she then grabbed Joseph and demanded what she wanted. And when he fled, she lied. (Gen 39:14-18)
Although Potiphar's wife was not a follower of God, we can use her sin as a warning.
Stop observation before it turns into lust.
Stop lust, and repent, before a desire to act upon it develops.
Stop the action, and repent, before it leads to other sin. (In Potiphar's wife, dishonesty.)
Christian Women Today
Christian women today can also be confronted with temptations of impurity.  Unholy movies, novels, internet activities, worldly expectations, and even unholy relationships are all around us.  Thankfully, learning from both Joseph and Potiphar's wife can both warn and encourage us to live with a pure heart set on honoring God.
Here are a few verses for your edification:
Gal 5:19
Matt 5:28
Eph 4:17-19
1 Pet 1:13-15
1 Pet 4:1-3
Rom 6:12-14
Phil 2:15
How does Joseph's response to Potiphar's wife encourage you?