This month we're diving into the Letters of John.  In the intro post for this series, Caroline reminded us that truth and love both stem from God. And that's precisely because He is truth and love!
Like Caroline said, when we show both of those Christlike attributes, it's because it overflows…
"from fellowship with God (1 John 1:6-7).

Fellowship with God means we seek, follow, and share truth.

Fellowship with God means we see, hear, and share love."

But what are truth and love? I found 13 facts that explain truth and love tucked away in 1 John 2.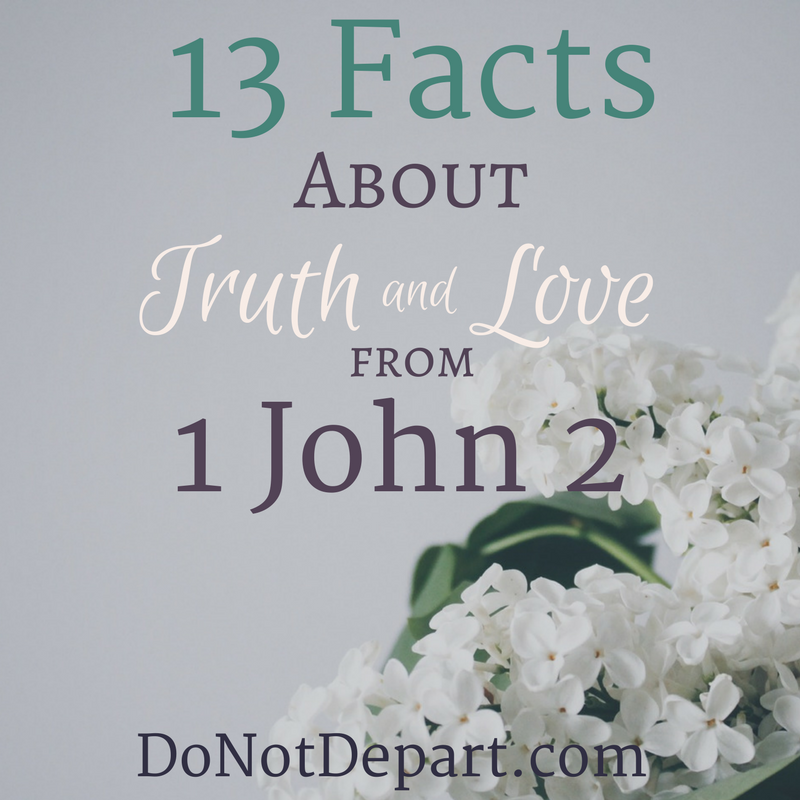 Truth
What exactly is truth? The world tells us it's relative. So, in a world where truth has become distorted and muddied, it's hard to know true truth anymore. But God's word is a lamp that guides us to the very Truth Himself. (Psalm 119:105, John 14:6)
1 John 2 tells us the following unshakeable, indestructible truths:
Verse 1:  Jesus is our advocate. (He acts like a lawyer who pleads our righteousness before God. Our righteousness is found in Him.)

Verse 2:  Jesus is the propitiation for our sins. (…The atoning sacrifice that pleases God.)

Verses 3-6:  Our obedience demonstrates our relationship with the Savior. (Works don't save us, but our obedience is an outward sign of what's in our hearts.)

Verse 12:  A Christian's sins are forgiven. (Our sins are no match for the power of Jesus' blood shed on the cross. See 1 John 1:7-9.)

Verse 13:  We are overcomers. (Jesus gives us the ultimate, eternal victory against Satan and strength to continually combat both the Devil and the flesh.

Verse 21: No lie is of truth. (This is an easy to understand truth that sets the bar high. John tells us that anyone who denies the Son has the spirit of Antichrist.)

Verse 23: Truth acknowledges the Son. (We cannot know God without knowing Jesus.)

Verse 25: Jesus promised us eternal life. (See John 3:16.)
Love
We've looked to see how John defines and clarifies truth. What does he tell us about love? Like truth, love has been misshapen and redefined by the world. What was the love that John speaks of and that Christ modeled?
Verse 9-11:  Love is the opposite of hate. (John says those who hate aren't walking in the light.)

Verse 15:  Love chooses God over the world. (We must never compromise on our love and faithfulness to Him.)

Verse  27: Love abides in Jesus. (He has love, He is love, our love for Him is from Him, and He gives us His love to share with others. See 1 John 4:19)

Verse 28: Love gives confidence. (The love that enables us to abide also grants confidence. Love supersedes fear and emboldens us.)

Verse 28: Love has no shame. (Instead of feeling ashamed, we can come to Him knowing He approves of us because of Jesus in our hearts. See Psalm 34:5 and Hebrews 10:19-22.)
Since we know what truth and love are, how can we show them in our relationships with others and our encounters with the world? Well, we can start by standing strong in truth and reflecting Christlike love and compassion. We can model truth that acknowledges Christ for the Savior He is and doesn't waver. We can show uncompromising love that chooses to put God first. We can share both His message of salvation and His method of grace.

We can point others to Truth and Love Himself.
What do you see in 1 John 2 that defines truth and love? Share in the comments.


For extra study this week:
Read 1 John 2. What stands out most to you about truth and love?

How does John 15:1-17 expound on 1 John 2:3-6?

Look for the comparison of light and dark in verses 7-11. What do you notice?

Reread verses 15-17. Ask God to reveal any areas where you may be struggling with love for the world. Surrender them to God.

Verses 18-27 tell us about the spirit of the antichrist. How can we recognize this spirit? (v. 22) What is it that this spirit tries to do to Believers? (v. 26) Thank the Lord that you abide in Him and that the truth abides in you!