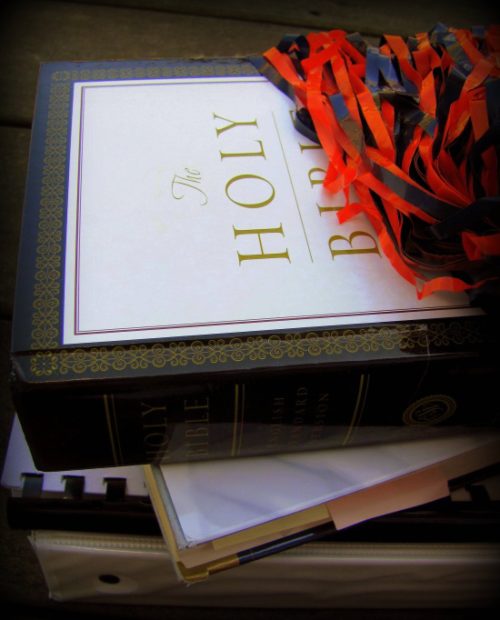 Maybe your child is about to graduate. Or already away at college or on their own.
Or maybe you just want to get ready now for what's to come later.
"Let the children come" (Matthew 19:14) isn't just for your little ones. Help your children of all ages continue coming to the Lord.
How can you assist their transition from pizza party youth groups to an authentic working faith of their own?
Not by old strategies. What worked at nine won't work when they're nineteen. You no longer choose their bedtime Bible stories. You can't drag them to Sunday school each week. No more gold stars for Bible chapters read.
So what can you do to help your older children stay in the Word?
HERE ARE 8 GUIDELINES:
1. Emphasize the Living Word (John 1:1)
Remember the goal isn't to keep your child in the Bible; it's for your child to abide in Jesus. Your kids may know the stories about Him; now help them discover how they fit into His story. Talk with them about how God is working in them and their circumstances. Bridge the written words in the Bible to the Living Word in their lives.
2. Invite them deeper into your world
When they're home for a weekend, invite them to go with you to your adult spiritual gatherings. Suggest more mature Christians books for them to read. Share new things you are learning in scripture and get their opinions on it.
3. Go with them into their world
If they have their own church home, visit with them when invited. Look for positives there, withholding criticisms on non-essential differences. If they're experimenting with gatherings different than your own or drawing opposing conclusions, discuss your views honestly, but don't argue or dictate what they should believe.
4. Give them growing room
But what if they've left behind all things spiritual? Practice grace. Don't show shock or fear if they open up to you about their doubts or new worldviews. You're in relationship for the long haul—keep the communication lines open. Pray, influence when you can, and show them unconditional love (even if that means tough love for a season). Remain hopeful in the God who can transform.
5. Let them teach you
This can be a time of growth for you, too. Show excitement as they share what they're learning, and incorporate that into your own spiritual walk. Be open about your doubts and be willing to change your beliefs if you're wrong. Allow them to question your traditions, mindful to keep the dialogue respectful in both directions.
6. Keep up on current events
Stay abreast of hot issues relevant to your children and their friends, such as gay marriage, immigration reform, abortion. Pay attention to what interests them and others in their peer group. Equip yourself for godly and intelligent conversations about cultural changes.
7. Be their encourager
Don't nag. Don't lay guilt trips. Don't transfer your anxieties onto them. Instead, remind them of God's promises from His Word and offer prayers of encouragement. Send scriptures of hope in a card or a text. Point out how you see God as present and active in whatever they're going through.
8. Release them (again) to God
Even if you gave them to God when they were tiny, you'll find that you again want to hold tightly after they leave your nest. But remember God has more power, wisdom, and love to guide them in His steps than you do. Trust in His grace, not your parenting. He'll be glorified when you depend more on Him than your own schemes of child protection.
BENEFITS
As your children grow and struggle and eventually make their faith their own (we all pray!), your faith will continue to grow as well. Lean harder than ever on the God of grace. And as you get closer to Him, you'll learn more how to love your child even better in this next phase of life.
What a great reward to have your son or daughter become a very special brother or sister in Christ, a true soul friend!
Please also read Teri Lynne's 5 Guidelines for Helping Your Teenager Abide in the Word.
What advice would you give parents of college-age children? What's a struggle you're having or anticipating for that age? What helped (or hindered!) your faith after you turned 18? Please leave us your thoughts below.