For the record, this is the hardest post I've ever written.  Seriously.  I've been blogging for about six years and I've probably around 1000 posts.  But this one has found me wanting to know more, offer more, be more … keenly aware of my extraordinary lack.
We're writing this month on training our children to abide in the Word.  It's a desperately important topic and one I am passionate about. The thing is, we've reached this point in our parenting journey with our daughter where the responsibility in this area is becoming less mine and more hers.  And, if I can be brutally honest:  I am terrified!
Most days guilt and fear and insecurities roll around my head.  All I can see is where I have failed, where I haven't done enough.  A few weeks ago, I was on the phone with a dear friend and wise mentor. I shared how disconnected my girl seemed when we were having our family devotions.  I shared all my fears about not doing enough when she was little, not expecting enough from her, not focusing enough, not teaching enough.
Kate listened and then she spoke some simple truths into my heart.  Here's the gist of her gracious wisdom,
"Your daughter is a world changer.  She has seen you love the Lord and serve Him.  She has watched you faithfully read the Word and pray.  You have taught her well.  And you have to let her find her way.  Continue to guide her, continue to teach her.  But trust the Lord to work in her.  His plan for her life is way better than yours."
Can I just say how much Kate ministered to me that day on the phone?  How much she poured grace over me and encouraged my frightened heart?
I'm not an expert in raising a child who will never stray from abiding in the Word.  But I would like to share a few words of encouragement for all you moms out there of tweens and teens, all you Word-lovers who are praying your children find that same passion.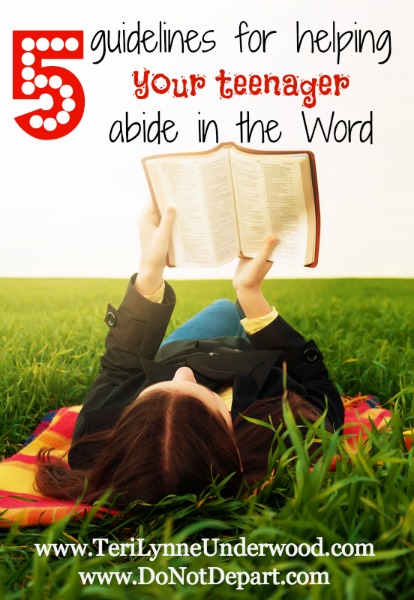 Keep the priority on your personal relationship with the Lord.  It's so easy to get distracted by trying to do the "right" things with and for our kids in this area.  But the best way we teach them to abide in the Word is by faithfully doing it ourselves.  Every morning my daughter sees both me and my husband reading our Bibles.  That example is the most powerful gift we give our kids.
Provide your child with the right tools.  Make sure your child has a Bible he can understand.  Find devotional or Bible study resources that fit with his personality.  Just because you like an in-depth study of a book of the Bible, doesn't mean he will.  Help him find the resources and tools he will use.
Don't expect your child to be you.  During this season of life, our children are (rightly!) beginning to explore their own ideas and ways of doing things.  This natural exploration and growth of independence during adolescence will also affect their personal devotion time.  Your child may decide to have her devotions at night even though you've always trained her to do them in the morning.  She may find another trusted adult to answer her questions.  She may build her own accountability group.  It's okay!
Keep asking questions and being available.  Don't push yourself onto your child.  But don't be afraid to ask if he has  read his Bible that day.  Ask what he's learning and where he's struggling.  Tell him you are praying for him and ask if there is anything specific he would like you to remember.
Pray for your child.  Never, ever stop praying and claiming Scripture on behalf of your child.  My friend Brooke writes out prayers for her boys every year using Scripture as a guide.  I love this idea and have done it myself several years.
These years are not always easy.  It's hard to let go of the control we've had in our children's lives.  But the teenage years can be a wonderful experience and I have to admit, I LOVE it when my daughter comes to me to share what she's read or learned all on her own.
Do you have a teenager?  How do you encourage your teen to abide in the Word?
 {image source: canstockphoto.com}