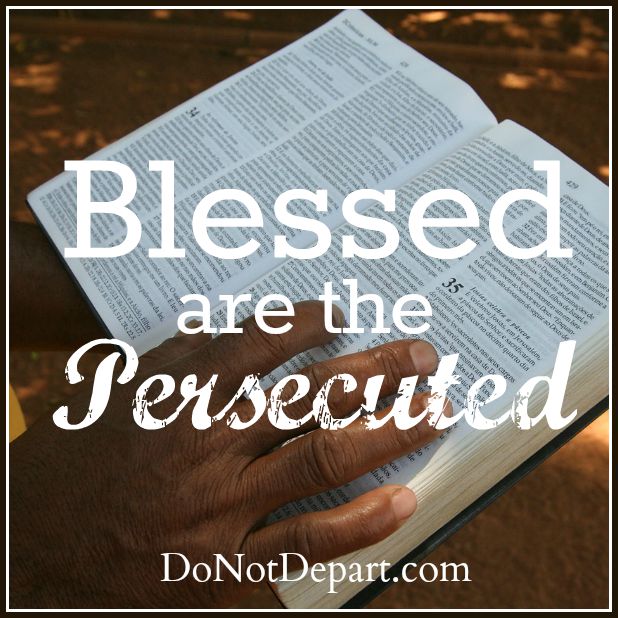 Blessed are the persecuted. It is not an intuitive concept, is it?
In fact, we humans seem programmed for self-preservation; wired for the desire to stay safe and survive.
So when Jesus said, in the Sermon on the Mount…
Blessed are you when people hate you and when they exclude you and revile you and spurn your name as evil, on account of the Son of Man!
– Luke 6:22
… I imagine the people must have looked at each other in confusion. How could they expect blessing when they were the objects of hate, exclusion, discrimination and injustice because of their belief?
Jesus' next statement put it in perspective:
Rejoice in that day, and leap for joy, for behold, your reward is great in heaven; for so their fathers did to the prophets.
– Luke 6:23
The blessing of persecution is an eternal blessing, not necessarily an earthly blessing (although God can use it that way too.) In the economy of God's kingdom, persecution is not a debit, it is a credit.
We too find this a hard statement to accept, don't we? On the one hand we might understand it on a spiritual level. But to embrace the actual possibility of persecution, to face the reality of what it would mean for our daily lives? That takes a faith that only God can give.
God's Word is clear that we must expect persecution:
Indeed, all who desire to live a godly life in Christ Jesus will be persecuted
– 2 Timothy 3:12
Paul didn't say we might be persecuted. He said we will be persecuted.
Are you persecuted for your faith? Persecution of Christians comes in many forms, and it is growing worldwide. Open Door Ministries estimates that on average 322 Christians per month are killed for their faith. This is a number that has been growing at a dramatic rate over the past few years, almost doubling each year.
Death is the ultimate form of persecution, and persecution occurs in many other ways at a much higher rate. From discrimination to physical violence, persecution is a reality for many many believers today.
Christians need to be prepared for persecution, and be supporting our brothers and sisters in Christ who are facing persecution.
This month our theme is "Blessed are the Persecuted," in which we will explore scriptures that address persecution, and ask ourselves what we can do to care for those who suffer under it.
We hope you will join us.