The week before Easter (Passion Week) begins this coming Sunday, March 24th. What better way to prepare for Easter than reading and reflecting on His Word, right?
Below is a sample Passion Week Scripture Reading List you can use. Each day includes a main Scripture reading, plus additional verses for further study as you are able. Some of the extra verses are the same events recorded in a different gospel, and some are different verses with more thoughts on the Easter events.
Day 1 (Palm Sunday): Read Matthew 21:1-11.

(for more reading: Luke 19:29-44 Mark 11:1-11, John 12:12-50)

Day 2: Read Matthew 21:12-20 and John 12:1-14.

(for more reading: Mark 11:11-33)

Day 3: Read Matthew 21:20-27.

(for more reading: Matthew 21:28-23:39, Mark 11:20-12:44)

Day 4: Read Luke 22:1-6 and Mark 14:1-11.

(for more reading: Matthew 24-25, Matthew 26:17-30)

Day 5 (Last Supper): Read John 19:1-16 and Isaiah 54:7.

(for more reading: Luke 22:7-52, John 13-17, 1 Corinthians 11:23-25, Mark 14:12-72)

Day 6 (Good Friday): Read Mark 14:53-15:41, Isaiah 53:5-6, and 1 Peter 1:18-21.

(for more reading: Luke 22:47-53, Luke 23:39-43, John 19:1-37)

Day 7: Read John 19:38-42 and Romans 6:22-23.

(for more reading: Mark 15:42-47, Matthew 27:57-66)

Day 8 (The Resurrection): Read Mark 16:1-7 and Matthew 28:1-20.

(for more reading: John 20:1-21:31, Acts 1:9)
If you would like a printable version of this reading plan, click this link to download a printable copy for free! (Easter Passion Week Scripture Reading List)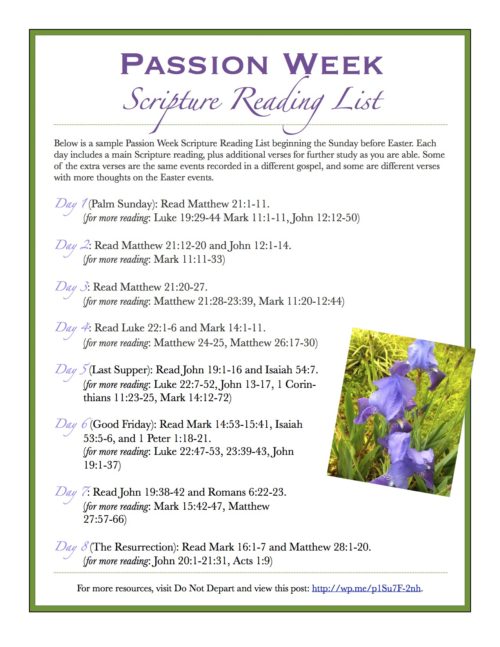 More Easter Study Resources
Want more readings for Easter? Check out some of these books and devotionals:
"Lent for Everyone" reading plan " by N.T. Wright on the YouVersion app. This plan is 53 days long, but you can either catch up or read the Passion week sections and devotions. You'll still gain much from reading! (There's also a [amazon_link id="0664238955″ target="_blank" ]book form[/amazon_link].)
[amazon_link id="1481909681″ target="_blank" ]Holey, Wholly, Holy[/amazon_link] by Kris Camealy (Find more information here and on Amazon)
[amazon_link id="0814633110″ target="_blank" ]Not By Bread Alone: Reflections for Lent[/amazon_link] by Bishop Robert Morneau
[amazon_link id="B0056A8WNQ" target="_blank" ]24 Hours that Changed the World[/amazon_link] by Adam Hamilton
An Easter Devotional from Ann Voskamp at A Holy Experience
Bible Gateway's Reading Plan for Lent and Easter
[amazon_link id="1414335814″ target="_blank" ]Devotions for Lent[/amazon_link]
Lenten Lights readings from Desiring God (John Piper). These devotions can be read each Sunday of Lent or the 8 days prior to and including Easter Sunday.
Take a look at this amazing Passion Week Timeline at Bible Gateway.
If you're looking for family devotions, check out [amazon_link id="B007OC5QOM" target="_blank" ]Find More Jesus[/amazon_link] by Katie Orr and see this round-up of family-focused Easter activities.
What verses stick in your heart around Easter? What are your favorite resources to study the Passion Week events? Share your favorites in the comments!
This post contains affiliate links. Thank you for supporting this ministry!