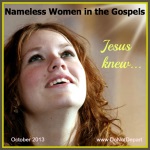 Have you ever felt alone? Vulnerable? Just one woman lost in a crowd of faces. Unknown and nameless.
The month of October we've explored six women in the Gospels that the writers left unnamed. Six women in need. Seven women who encountered Jesus and would never be the same.
Their stories give us hope. We're reminded that no matter how small we feel Jesus sees us and knows us. No matter how great – or small – our need, Jesus cares and is able and willing to provide.
Jesus showed unconditional love to all these women. He miraculously met their needs beyond their wildest expectations.
He is able to do the same in your life. Come to Him today. Reach out in faith.
He knows your name.