Imagine bleeding. For years. Without a discernible cause.
All the local doctors can't figure it out. You've spent your life savings trying to find someone who had an answer.
And nothing.
You're broken.
You're exhausted.
You're rejected.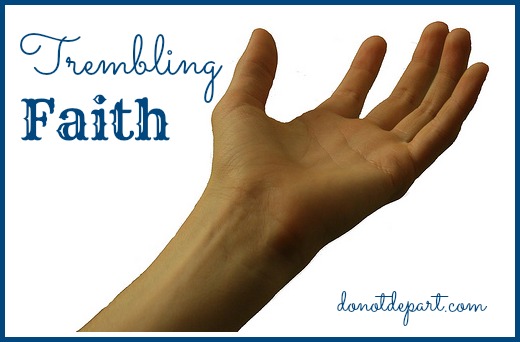 But, there's this Man. One Man who comes as a Savior for all. It's your last bit of hope.
You feel worthless. You don't mean anything to the community around you anymore because of your ailment.
Why would this Man even want to look at you, much less heal you?
But you know His power. And you think, "If I could only touch His cloak. I know I'd be healed. Because I have hope of who He is" (expounding of Matthew 9:21)
And you receive more than you even expected. Instantly.
Courageous Faith, Graceful Healing
The women subject to bleeding (Luke 8:40-48, Matthew 9:18-26, Mark 5:22-43) endured this circumstance. Another nameless woman, her story even occurs in the middle of someone else's story.
Almost as an aside: "…And a woman was there…" (Luke 8:43)
Much of our own stories are in the middle of others', aren't they? But that doesn't leave our own stories worthless.
This woman didn't even want to be seen. Perhaps she feared she would be deemed unworthy and rejected once again. Or maybe told nothing could be done for her as other doctors had for twelve years.
But with one touch, she was "immediately" healed (Luke 8:44).
Would you expect instant healing? I wouldn't. And yet it was so dramatic within her and so instant, she felt the change.
But, just as instant, Christ felt the change, too.
He asked who touched him.
You can almost hear the disciples smirk. Of course people touched Him. They were surrounded by pressing masses of people.
I imagine Christ didn't really need to ask who touched Him. He knew. But, He gave the opportunity for our nameless woman in this story to come forward on her own.
And come forward she did… trembling (Luke 8:47).
Would Christ take this healing away? Because she touched Him without asking, would she be punished? Because, by touching Him, she ceremonially defiled Him because she was unclean herself?
I would think questions like these.
Who am I to think I'd be worth Christ's healing?
But that's grace. It's undeserved, as is any of the love Christ gives. And all the more beautiful.
Maybe this woman trembled because of fear of how Christ would respond or because of the ramifications of an ostracized, unclean person touching Someone so great. Instead, He told her to "Go in peace" (Luke 8:48) and continue with the courageous faith that carried her to Him.
Maybe she also trembled because of the amazing gift she had just been given. She believed, she knew He could heal her. And He did. Instantly. She was freed from suffering (Mark 5:29).
I would tremble, too.
I pray to have this woman's faith and trust in a God who gives.
"I do believe; help me overcome my unbelief!" – Mark 9:24
How have you persevered in your faith over long-standing trials? How does this woman's story, and Christ's reaction, inspire you?