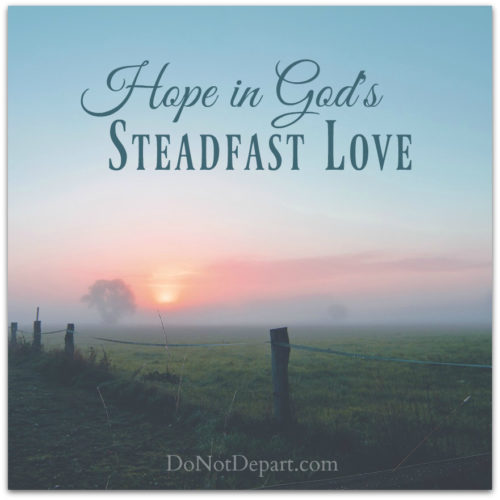 As the news fills our minds with grievous images and despairing thoughts, it is easy to feel hopeless. The world seem to be in a downward spiral, doesn't it?
It has seemed that way for millennia. Just a quick glance at the Old Testament shows that people have been despairing over their condition from the beginning:
Job despairing:
"Do you intend to reprove my words, When the words of one in despair belong to the wind?
(Job 6:26 NASB)
Israelites in Egypt despairing:
"And all the people of Israel grumbled against Moses and Aaron. The whole congregation said to them, 'Would that we had died in the land of Egypt! Or would that we had died in this wilderness!'"
(Numbers 14:2)
David despairing:
"Why are you in despair, O my soul? And why have you become disturbed within me? Hope in God, for I shall again praise Him For the help of His presence."
(Psalm 42:5 NASB)
David despairing some more:
"For the enemy has pursued my soul;
he has crushed my life to the ground;
he has made me sit in darkness like those long dead.
Therefore my spirit faints within me;
my heart within me is appalled."
(Psalm 143:3-4)
Solomon despairing:
"So I turned about and gave my heart up to despair over all the toil of my labors under the sun"
(Ecclesiastes 2:20)
You see? It's nothing new.
The trouble with placing hope in the world has always been that the world is populated by sinners – including you and me. People disappoint us. We disappoint ourselves.
But hope in God's love won't disappoint.
God's Covenant Love
Let's take a look at three verses in the Old Testament that speak of hoping in His love. Each of these verses talks about God's love in a very specific way.
This is not the feel-good emotional love we see in Hallmark movies. It is not even the kind of New Testament love-in-action Christians try to walk out daily with those in their life.
The Hebrew words for love in these verses all come from the same root – חָ֫סֶד – transliterated hesed or checed (Strong's #2617). The ESV translates words that come from hesed as "steadfast love." Hesed is even more accurately translated as "covenant loyalty."
Know therefore that the LORD your God is God, the faithful God who keeps covenant and steadfast love with those who love him and keep his commandments, to a thousand generations, Deuteronomy 7:9
Hesed love is binding. A covenant is a legal transaction. God's love is steadfast because it can not be broken. This is love that hope can be safely placed in, because by definition God will not remove His love from us while we are in a covenant.
Now for those verses:
Steadfast Love Watches Over Us
Behold, the eye of the Lord is on those who fear him, on those who hope in his steadfast love, Psalm 33:18
God's covenant love binds Him to protect us. He is always tenderly watching over us!
Steadfast Love Redeems
O Israel, hope in the Lord! For with the Lord there is steadfast love, and with him is plentiful redemption. Psalm 130:7
God planned from the foundation of the world to redeem His people. Those who choose to enter into a covenant of love with Him have been redeemed by the power of Jesus' sacrifice for our sins. We are free to enjoy Him for eternity!
Steadfast Love Is Unceasing
But this I call to mind, and therefore I have hope: The steadfast love of the LORD never ceases; his mercies never come to an end; they are new every morning; great is your faithfulness. Lamentations 3:21-23
God is not a god of whim. He will not suddenly pluck His love from us. His love is unceasing and His mercy never runs out
God is Faithful to Love Us
The covenant love of our Lord watches over us, redeems us and never ends. We can hope in God's love, because He is faithful!