This month, we're looking at ways to be better friends — whether in making new friends or upping our initiative to sustain our longtime ones. (See all the posts from this month here.)
Something I admire in friends (and in mentors, in coworkers, in neighbors, in doctors, in leaders, etc.) is someone who genuinely listens.
A listening ear is powerful. When we find someone who listens with an honest, we typically find someone who is:
trustworthy
others-focused
serving
What the Bible Says About Listening
James 1:19 – "My dear brothers and sisters, take note of this: Everyone should be quick to listen, slow to speak and slow to become angry…"
Proverbs 27:6 – "Wounds from a friend can be trusted, but an enemy multiplies kisses."
Proverbs 1:5 – "…let the wise listen and add to their learning, and let the discerning get guidance…"
Proverbs 18:13 – "To answer before listening—that is folly and shame."
Proverbs 19:20 – "Listen to advice and accept discipline, and at the end you will be counted among the wise."
Proverbs 25:12 – "Like an earring of gold or an ornament of fine gold is the rebuke of a wise judge to a listening ear."
John 3:29-30 – "The bride belongs to the bridegroom. The friend who attends the bridegroom waits and listens for him, and is full of joy when he hears the bridegroom's voice. That joy is mine, and it is now complete. He must become greater; I must become less."
Proverbs 21:28 – "A false witness will perish, but a careful listener will testify successfully."
Proverbs 12:15 – "The way of fools seems right to them, but the wise listen to advice."
Mark 4:24 – "'Consider carefully what you hear,' he continued. 'With the measure you use, it will be measured to you—and even more.'"
(Click here or on the image below to save this free printable of James 1:19. Image for personal, family, or church use. Thank you for not selling, copying, or otherwise changing this image.)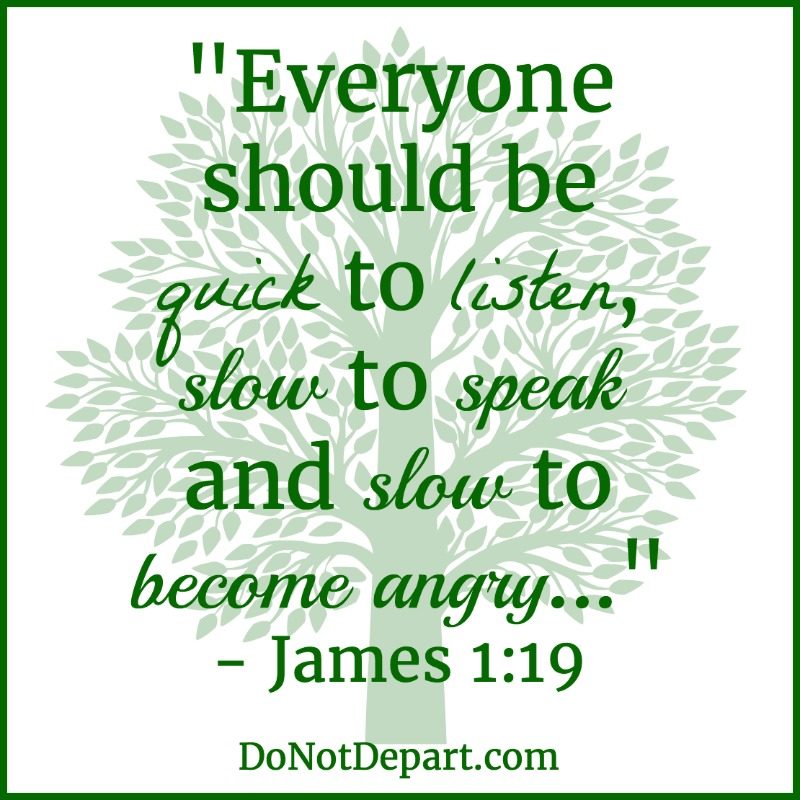 How Can We Listen Better?
Be slow to speak – This one is sometimes tough for me. I'm a solid introvert, so in groups, this is no problem. But when I'm talking one-on-one with someone that I've found I am able to talk with and find commonalities with and find intriguing differences, I get excited. I also sometimes talk too much in one-on-one situations because I'm nervous (another introvert thing, oddly enough). But the more I wait to speak, the more I can truly listen. And that more often than not turns out to be a big blessing.
Ask questions – Learn more by truly learning more. Asking appropriate questions requires listening first.
Pray about an honest heart and open eyes to see how to serve – I have a Mother Teresa quote on an index card on my bookshelf for me to see every morning (because I need the reminder every morning, too): "Would you like to do something beautiful for God?" I want to think of that more often and how to be a blessing and do an act of service and love (not just say it or think it) when I'm talking with someone. The more we listen, often the better we can then see truly helpful ways to serve.
Pay attention to the person rather than thinking of what I'll say next – This is another one that can be tricky for me. As a writer, I love watching people's reactions and body language, so that helps me focus on them. But, sometimes I think of what I'll say next rather than really focus on what that person is saying. When those moments arise, I'm trying to remind myself to wait and listen.
Listen to your own trustworthy, listening friends – When you have a friend who listens, you are more likely to listen to them when they do talk, offer advice, come to you with a concern, etc. Consider their words and how they may be trying to help you (rather than only listen to your own head … good friends get you out of your head when needed!).
Kairos, a prison ministry, has a lovely, strong motto:
"Listen, listen, love, love"
Listen is listed first. We have to listen to learn. 
Then, and only then, we love. Speak love, think love, and do love.
Both are repeated because we always need the reminders, don't we?
What helps you remember to listen to be a better friend? Please share your ideas, favorite quotes, etc. in the comments!