Valentine's Day was last weekend. Though it's supposed to be a day when we celebrate love, for many of us, it becomes a day of disappointment instead.
For the past couple of weeks, we've been talking about how to love one another as Christ loves us. Today, I wanted to share some thoughts on how we can love our spouse like Christ loves us, especially when he might not deserve it.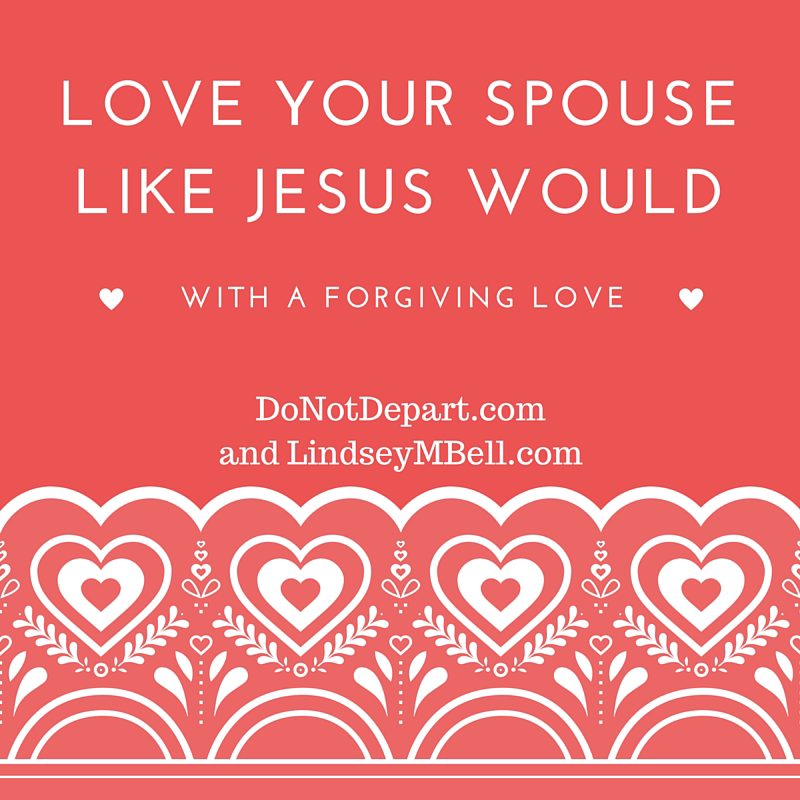 How to Love Like Jesus with a Forgiving Love:
Jesus loves us with a forgiving love.
There were many times he taught on the importance of forgiveness.
For instance, in Matthew 6:14-15, he said this: "For if you forgive other people when they sin against you, your heavenly Father will also forgive you. But if you do not forgive others their sins, your Father will not forgive your sins." 
In Matthew 18:21-22, "Peter came to Jesus and asked, 'Lord, how many times shall I forgive my brother or sister who sins against me? Up to seven times?' Jesus answered, 'I tell you, not seven times, but seventy-seven times.'" 
Passages like these make it clear that Jesus thought forgiveness was incredibly important. But there are two other passages that I think make an even greater impact. These two passages don't just tell us what Jesus thought about forgiveness; they show us.
Jesus' Extravagant Forgiveness:
In John 8:3-11, the religious leaders of  the day brought before Jesus a woman caught in adultery. Picture this scene with me. She was caught in the act. That means that she might not have had time to put any of her clothes back on before they dragged her out of the house. Maybe they let her grab a sheet to cover herself up…maybe.
I'm sure she was humiliated and ashamed. She might have held her eyes on the ground, unwilling to make eye contact with Jesus.
Jesus' response to this woman wasn't what anyone expected.
He didn't condemn her, judge her, or shame her. Instead, he loved her.
Here's what he said in verses 10 and 11: "'Woman, where are they? Has no one condemned you?' 'No one, sir,' she said. 'Then neither do I condemn you,' Jesus declared. 'Go now and leave your life of sin.'" 
Jesus loved this woman with a forgiving love. He forgave her when she deserved judgment. He loved her with she didn't deserve it.
In Luke 23:33-34, when Jesus was hanging on the cross, he showed another example of forgiving love.
"When they came to the place called the Skull, they crucified him there, along with the criminals—one on his right, the other on his left.  Jesus said, 'Father, forgive them, for they do not know what they are doing.'" 
Jesus forgave the very people who put him to death-as he was dying! 
That's the kind of forgiving love He wants us to show our spouses.
Our spouses are going to let us down. They are going to disappoint us. They are going to do things that make us think they don't deserve forgiveness. And sometimes, maybe they don't.
But the truth is, we don't deserve forgiveness from Jesus either and he gives it anyway.
Jesus doesn't forgive us because we deserve it; He forgives us because He loves us. 
We forgive our spouses for the same reason…because we love them.
So if your Valentine's Day left you feeling let down and discouraged, choose to forgive today. Not because your spouse necessarily deserves your forgiveness, but because you want to love like Jesus did.