We have a variety of things occurring in our family's lives (not to mention craziness in this world, too) that add quite a bit of stress to our daily living.
And I do a pretty good job of feeling overwhelmed and not at peace.
When I get into a pressured how-am-I-going-to-get-this-all-done? mode or a frantic how-do-I-solve-ALL-these-problems-RIGHT-NOW!? mode, what's really happening is I'm just plain forgetting.
I'm forgetting that God is our rock and our rescue, no matter what our situations, and so I can trust Him with all situations.
"Trust in the Lord forever, for the Lord, the Lord himself, is the Rock eternal." – Isaiah 26:4
I'm forgetting that I can always praise Him and see joy in Him as I take refuge in Him, no matter how overwhelmed and frantic I get.
"But let all who take refuge in you be glad; let them ever sing for joy." – Psalm 5:11
It helps to stop, pause, breathe, and remember.
Then I can step forward.
Pause, Breathe, Remember, Step Forward
When I feel too busy and crowded and squeezed, I sometimes feel paralyzed in deciding what the next step should be.
Again, I'm forgetting. But, pause, breathe, remember.
Then I can see (again) that I just need to focus on His grace and His preservation. Grace for each step we take, salt for our words expressed.
"Let your conversation be always full of grace, seasoned with salt, so that you may know how to answer everyone." – Colossians 4:6
And — perhaps most importantly during times of stress — remember He has already shown us what is good. And He walks with us every step.
"He has shown you, O mortal, what is good. And what does the Lord require of you? To act justly and to love mercy and to walk humbly with your God." – Micah 6:8
Would you like a printable of these four verses? Click on the image below (or this link) to download a free 2-page printable of these four verses (2 verse images per page). Each of the verses is about a 5×7 size when printed, so you can use them on your walls or your desktop/device wallpaper.
Revive and Renew Verses Printable PDF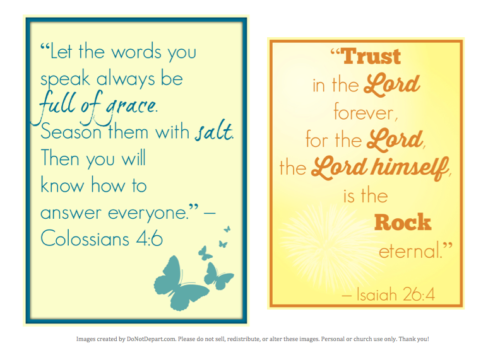 *Another good resource for breathing and remembering? Check out Emily Freeman's recently released book, Simply Tuesday. Definitely a breath of wonderfulness.
What verses and truths about God's character and our walks with Him help you pause, breathe, and remember? Share in the comments.