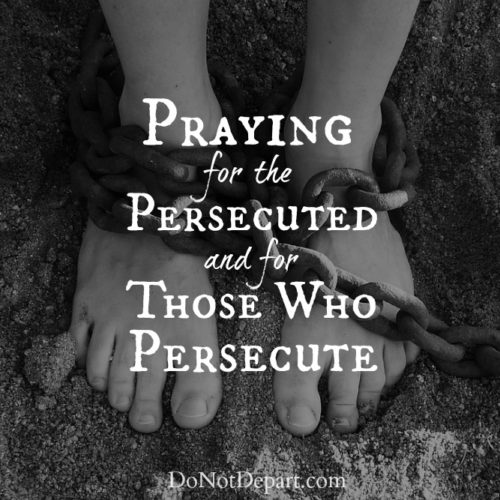 Christians have been persecuted since before the term "Christian" even existed. The book of Acts is filled with many such stories, and persecution only increased in the first centuries of Christianity.
Persecution of Christians continues to this day. According to the non-profit organization Open Doors, 2015 was the worst year in modern history for Christian persecution: "More than 7,100 Christians were killed for faith-related reasons, and 2,400 churches were destroyed or damaged."
Our brothers and sister in Christ are suffering. As painful as it is to recognize this reality, our hearts are connected to theirs as members of the body of Christ. It is our privilege to pray for them.
And not only are we called to pray for fellow believers, we are also instructed to pray for those who persecute. God can do incredible works in the hearts of men like Taher (read the full story here):
"Taher was the last one you would expect to convert to Christianity . . . So when his daughter came to Christ, Taher was very angry. When his wife also came to Christ, he became even angrier and when finally even his son turned his back on Islam and accepted Christ, he became outraged . . . In his despair he memorized Koran verses and focused on Allah, the god he served so passionately that he scared away his own family: 'Please show me your face' he begged . . . In his dream he saw a man, riding a donkey. The man came towards him. He had never seen the man before, but the man hugged him and said: 'I will clean you from all your sins, you are free: I will give you rest. Believe in me.' . . . Waking up he knew that Jesus Christ was the only true God."
What Does God's Word Say About Persecution?
Persecution will happen. Don't be surprised.
"Indeed, all who desire to live a godly life in Christ Jesus will be persecuted" 2 Timothy 3:12
"Do not be surprised, brothers, that the world hates you." 1 John 3:13

"Beloved, do not be surprised at the fiery trial when it comes upon you to test you, as though something strange were happening to you. But rejoice insofar as you share Christ's sufferings, that you may also rejoice and be glad when his glory is revealed." 1 Peter 4:12-13
Those who are persecuted are blessed.
"Blessed are those who are persecuted for righteousness' sake, for theirs is the kingdom of heaven." Matthew 5:10

"If you are insulted for the name of Christ, you are blessed, because the Spirit of glory and of God rests upon you." 1 Peter 4:14
We are to love, bless, and pray for our enemies.
"But I say to you, Love your enemies and pray for those who persecute you" Matthew 5:44

"Bless those who persecute you; bless and do not curse them." Romans 12:14

"Do not repay evil for evil or reviling for reviling, but on the contrary, bless, for to this you were called, that you may obtain a blessing." 1 Peter 3:9

"Bless those who curse you, pray for those who abuse you." Luke 6:28
How Can We Pray?
1) Pray for those who are persecuted:
for courage and peace
that they would abide in the Lord and know His presence
for the ability to continue to share their hope in Chris
that they would be able to rejoice in the midst of their trials
2) Pray for those who persecute:
that their hearts would be softened to the truth
that they would come to saving faith in Jesus Christ
that God would use them in a mighty way for His kingdom
A Simple Prayer for Those Entangled in Persecution
"Lord, I pray Your blessing on those who are persecuted for Your name's sake (Matthew 5:10), that they will be filled with Your courage and peace (Phillipans 4:6-7), and that through Your strength they will rejoice (1 Peter 4:12-14). Please help them to know Your love each day (Romans 8:35-37), and abiding in You, to love those who persecute them (Matthew 5:44). I pray also for those who persecute, that their hearts would be softened, and that You would draw them to Yourself so that they might become Yours forever. Amen."