All this month, we've focused on our hurting world. We've looked intently at some disheartening events and situations that show the magnitude of brokenness and pain we live amongst.
We thank you for taking the time to pray with us this month.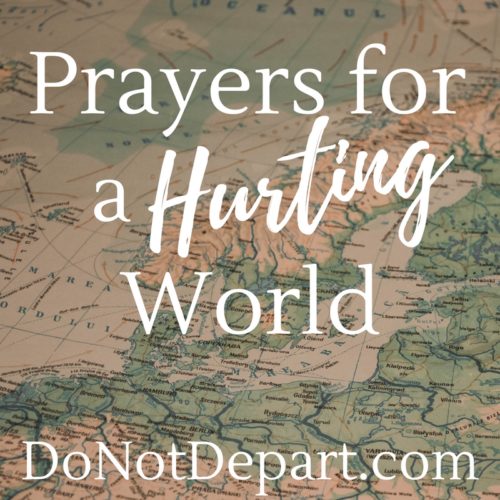 Though we live in a messy world, we can't lose heart! God is sovereign and His love is deeper that the deepest pit. (A paraphrase of Corrie Ten Boom's famous words.)
This month, we looked at how we can pray for:
And at the beginning of the month, we promised you a printable prayer prompt that will serve to encourage and guide you as you lift your heart and voices to God. As Believers, we know what dire need humanity has for Christ and the wholeness only He can give.
Click on the images above or here to download our Prayers for a Hurting World Printable.
We consider ourselves blessed by our DoNotDepart reader-community– again, we thank you for praying with us!
Ali