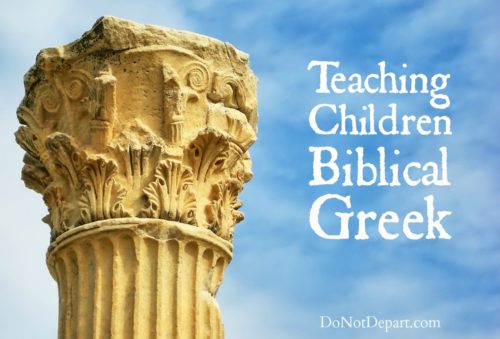 This month, in our series "
Key Greek Words of the New Testament
," the Do Not Depart team will be taking a deeper look at significant Greek words. Word studies can help enhance your understanding of the meaning of scripture.
Not only are Biblical Greek word studies a valuable part of scripture study for adults, children can learn from them as well! Today I am sharing resources our family has used, other Biblical Greek resources available online and in print, plus a bonus printable worksheet for your child to use in his or her studies.
From just focusing on a word or two here and there, all the way to learning the language, your child can benefit from digging into Greek!
How to Include Greek Word Study
Here are some ideas for ways to approach Greek word study with children:
study one verse in depth, researching each Greek word in the verse
focus on a specific word and find all the verses in which it appears in the New Testament
learn a passage of the New Testament in Greek
follow a curriculum to learn Biblical Greek together
Basic References
Most basic Biblical Greek resources are designed for adults, and you can certainly teach older children how to use them. When my oldest son was 13 years old, he became fascinated with Ancient Greek history and started teaching himself Biblical Greek using just my concordance!
Here are some basic references, good for adults and older kids:
If you just want to look up a word here and there, a concordance is a great option. We use [amazon_link id="1418541680″ target="_blank" ]Strong's Concordance[/amazon_link].
One of my favorite online resources is biblehub.com. When you go to a verse, click the "Greek" button (example from John 1:1)  or the "Lexicon" button (lexicon example from John 1:1) and you will be able to see the original Greek words and definitions. If you want to go further in, just click on individual words in the passage.
Check out this basic online Biblical Greek dictionary.
Biblical Greek Studies
If you would like to dig even deeper into Greek with your children, there are now resources design specifically with children in mind. When I realized how serious my son was about learning Greek, we started him on a Biblical Greek curriculum. There are quite a few available now.
My son used Harvey Bluedorn's Greek curriculum. Other Bluedorn Greek education books can be found here (my son used the Alphabeterion and Hupogrammon before he started the full curriculum.)
Even the youngest member of your family can start learning Greek with Little Bitty Baby Learns Greek by Johanna Bluedorn.
The Greek for Children series is by Christopher Perrin.
Kids' Greek teaches basic biblical Greek lessons online. The content appears to have been being developed into software. The site does not seem to be currently in development but the free resources are still available.
Hey Andrew! Teach Me Some Greek! by Karen Mohs is an 8 level biblical Greek curriculum for children. You can see sample pages here.
Living Koine Greek by Randall Buth does not appear to be specifically geared toward children, but I did find an instance where it was used in an elementary classroom.
Song School Greek from Classical Academic Press is geared toward upper elementary students.
Ashlyn Perkins' [amazon_link id="B012UKBIWG" target="_blank" ]Biblical Greek 4 Kids[/amazon_link] can be used with children as young as lower elementary.
Other Resources
Audio seminar on teaching classical languages at home.
The Greek Alphabet online for kids.
Interesting article by Ryan Ritchie about whether or not it is possible to learn biblical Greek without going to seminary.
Ritchie, author of ntgreekstudies.com, shares three free audio recordings of songs adapted to Biblical Greek – my nine year old loves these!
Your Own Biblical Greek Worksheet
Our awesome team member Ashley Taylor created this Biblical Greek worksheet that you can use when studying the bible with children. They can fill it in when they find their interest piqued by one particular word, and even create a whole binder of Greek words.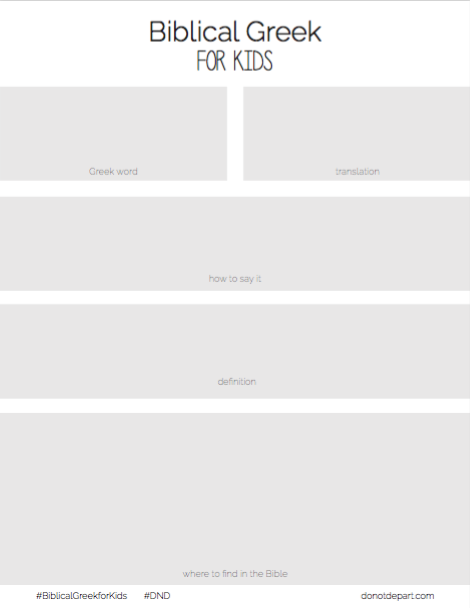 Greek word study can be a rewarding aspect to studying scripture, for both you and your child!