Out of the many themes that are associated with Christmastime, this one resonates in my heart. Something inside me greatly desires peace.  I thrive on routine and habit… because, well there's peace in that. I tend to get anxious when life's hiccups happen.
And because that's how God wired me, I'm so thankful to know the Prince of Peace Himself. I need Him… and I certainly need His peace.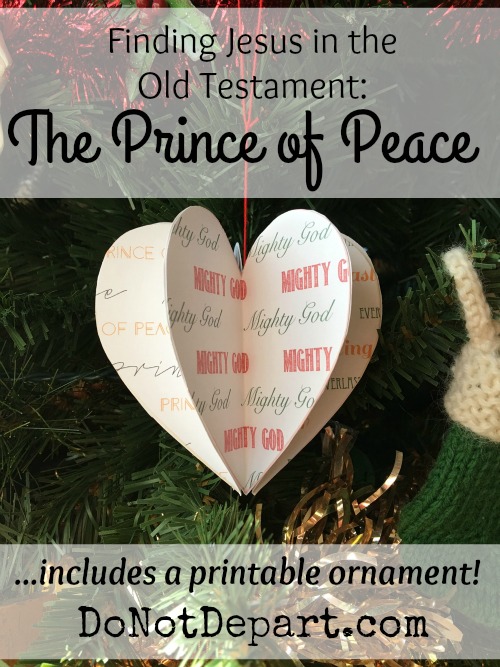 And I'm not the only one who needs His peace– our restless world does. There have been so many tragedies lately. So much heartache. Whether it's a massacre in Paris or San Bernardino on the news, a child sick with cancer on a Facebook feed, or personal unrest in any painful shape, I think we can all see a God-sized hole we could label "Peace Missing."
But before we despair, we can turn to God. He is ever near us and He's waiting to comfort us with His love, wisdom, and might.
And that's what God did for the Israelites when they were at their most unrestful state. His chosen people were spiritually wandering away from Him and their sin invited both danger from the enemy and discipline from the hand of God (Dan:5-7). The northern tribes had been conquered by Assyria, and the Kingdom of Judah would soon be conquered by Babylon. The majority of the inhabitants would be driven as captives into Babylon, far away from the Promised Land, far from their homes, their culture, and from everything they knew.
Unrest. Lack of peace. Heartache.
But God stepped in. Through the encouraging words of Isaiah, God reminded His children that He hadn't forgotten them and His peace hadn't truly left. He had a plan that would bring joy and peace to each heart. His plan was personal, powerful, and would change the whole world!
6For to us a child is born,
to us a son is given;
and the government shall be upon his shoulder,
and his name shall be called
Wonderful Counselor, Mighty God,
Everlasting Father, Prince of Peace.
7Of the increase of his government and of peace
there will be no end,
on the throne of David and over his kingdom,
to establish it and to uphold it
with justice and with righteousness
from this time forth and forevermore.
The zeal of the LORD of hosts will do this.
Oh, Jesus, the Messiah! What a promise of peace to the restless, fearful, broken heart!
Peace for You, Today
That's why Jesus came down from Heaven 2,000 years ago to reach us. He didn't want us to continue to stumble blindly. He wanted to offer the whole world His marvelous light. And while the Israelites had to wait about 700 years from these prophecies of Isaiah for Jesus to be born, today, we have ready access to the saving, peace-giving knowledge of Christ.
If we are ever on the brink of despair, we can remember that Jesus is our Wonderful Counselor. He is our Mighty God. He is the Everlasting Father. And He most certainly is the Prince of Peace.
"Peace I leave with you; my peace I give to you. Not as the world gives do I give to you. Let not your hearts be troubled, neither let them be afraid." (John 14;27)
Jesus came to establish His heavenly kingdom. Many Jews mistakenly thought that the Messiah was coming to be a warrior King who would lead them to freedom from Roman rule– to bring physical peace between governments. But instead, Jesus came to offer each heart on earth (past, present, and future) eternal peace. Peace not like the world gives, but peace that comes from having the truth of His presence living right inside us.
And that peace within us flavors the way the think, the things we say and do, and the way we interact with others.
Peace gives us hope, satisfies us, and fills us with joy.
If you're craving the peace of Jesus today, find encouragement in these verses:
"I have said these things to you, that in me you may have peace. In the world you will have tribulation. But take heart; I have overcome the world." (John 16:33)

"And the peace of God, which surpasses all understanding, will guard your hearts and your minds in Christ Jesus." (Phil 4:7)

"For he is our peace…, And he came and preached peace to you who were far off and peace to those who were near." (Eph 2:14 a, Eph 2:17)

"You keep him in perfect peace whose mind is stayed on you, because he trusts in you." (Isa 26:3)
I pray that whatever your circumstances, His presence in your heart would bring you great Peace this Christmas.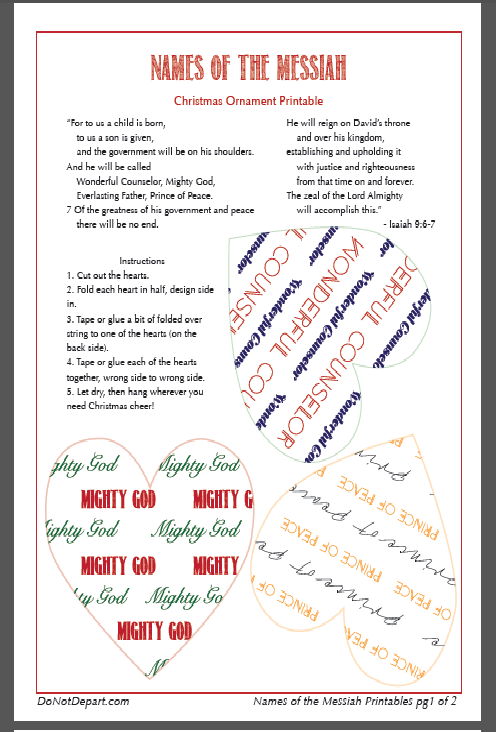 And, as a physical reminder of who Jesus is (as described in Isa 9:6-7) our friend, Ashely Taylor, has made an elegant Christmas ornament as a gift for you. It's very simple to print and assemble. We hope you'll hang it on your tree — or wherever you need a little Christmas cheer!
How has knowing the Prince of Peace affected your heart and spirit?