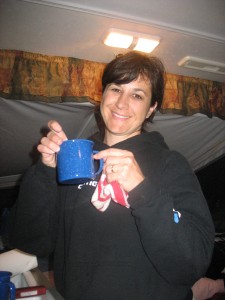 The Saturday morning sight caught me a little by surprise. Looking in the mirror I couldn't help but utter an "Ew!" when I saw myself. Knowing my husband was gone to a meeting, I decided to ignore "the face," throw on a robe, and answer the coffee pot's call. I left my baggy eyes, dark circles, and dry skin at the mirror and settled into my comfy kitchen chair.
What do you do with what you see in the mirror? You could be the kind of gal who gets to work with her toolbox to cover up and enhance. You might be the kind who exfoliates down deep. You may even be the kind to up your water intake, back up your bedtime, and offload cares through prayer. We all respond to what the mirror shows us.
God's Word is like a high magnification mirror. We all respond to what the mirror shows us.
James 1:23-25

For if anyone is a hearer of the word and not a doer, he is like a man who looks intently at his natural face in a mirror. For he looks at himself and goes away and at once forgets what he was like. But the one who looks into the perfect law, the law of liberty, and perseveres, being no hearer who forgets but a doer who acts, he will be blessed in his doing.
God's truth exposes us for what we are. To hear what God wants and then walk away without action would be foolish. Instead, as we learn the Word and implant it in our memory, we're called to act on it. Doing something about what we see in the mirror of God's truth leads to blessing. That blessing overflows to those around us.
I was just getting a refill to freshen up my coffee breath when the garage door opened and my husband walked in. With a look of concern, he came to me and tenderly asked if I was okay. "I'm fine. Why?" I responded.
"You look like you're really upset, like you've been crying," he said in a slightly nervous tone.
Nope. Just morning face that I ignored, forgot about about, and got comfortable with. Shoulda been a "doer" and done something about it! The next morning when I looked in the mirror, that same gal met me, but I dealt with her. I think we were all better for it; you could even say we were blessed!
How will you respond to what you see in God's word today?
Will you walk away and forget about it, or will you deal with it?