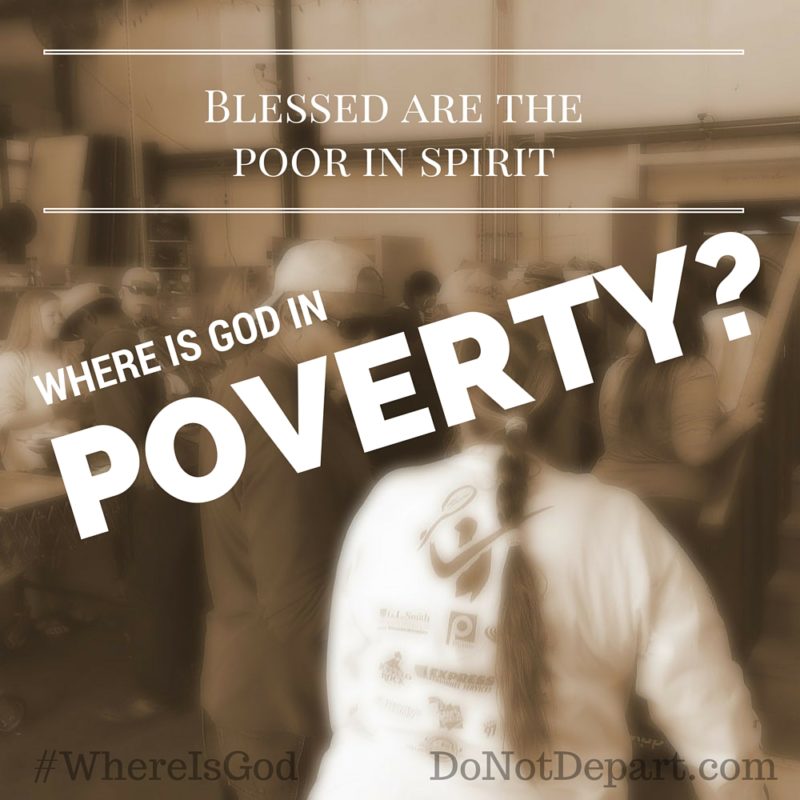 Who wants to be poor?
It's not something we aim for. Poverty is unappealing. We'd rather run away from it than run towards it.
Even though Jesus did say:
"Blessed are the poor in spirit, for theirs is the kingdom of heaven."
Matthew 5:3
We typically want more (of whatever), not less.
What Do You Need?
I sat in a metal chair underneath a tent last Saturday morning for Outdoor Church. It's a once-a-month service for the homeless and poor in our community, followed by a free meal. One of my friends, Brenda, sat beside me.
We were worshiping along with the church who had volunteered to lead that day. Brenda was rubbing her leg as we sang.
She had had a rough night of pain. Actually a rough year. A rough life.
She's been disabled for awhile. Money is scarce. Her medical needs go unmet if insurance won't cover them. Her vehicle barely works. Her housing is minimally sufficient.
Yet after the first song, Brenda leaned over, smiled, and whispered in my ear: "I'm so glad I came today. I really needed to be here."
Where Is God in Poverty?
We're asking on the blog all month, "Where is God?" I often wonder where is God in poverty. I see people weekly who are poor in finances, poor in physical and/or mental health, poor in support networks.
Where is God in poverty?
I saw on Saturday.
In Brenda's poverty, she saw God.
In our wealth, we often miss Him.
Jerry Bridges says in The Blessing of Humility,
"People who are poor in spirit see themselves as utterly dependent on God and His grace in their lives. They recognize that they are dependent on God even for life and breath (Acts 17:25)."
Embrace Poverty?
We each are poor in some areas.
But if poverty of any sort awakens our desire for God, maybe we shouldn't fear it so much.
Maybe we should embrace our poverty, our dependence. After all, aware of it or not, we are . . .
Dependent on God,
Dependent on His resources, and
Dependent on His grace.
And in our desperate dependence, like Brenda who was desperate to get to Outdoor Church, we, too, will find what only God can provide.
Maybe it won't be wealth as we typically define it: bigger bank accounts or physical healings or changes in circumstances.
These Riches
But it can be increased riches in the midst of the poverty, in the form of greater hope and lasting contentment and deeper faith.
"Listen, my beloved brothers, has not God chosen those who are poor in the world to be rich in faith and heirs of the kingdom, which he has promised to those who love him?"
James 2:5
So instead of clinging to our scarcity mindsets ("What if there's not enough to go around???"), may we learn to trust in our God of abundance (yes, He came to give us THAT kind of life, John 10:10).
Among the poorest of the poor on Saturday, God was here:
In the impromptu sing-along of "Amazing Grace" among the broken in the crowd (i.e., all of us),
In the free grilled hamburgers and take-home plates that filled empty stomachs, and
In the attention and the hugs and the face-to-face individual conversations.
Jesus wasn't scared of poverty. He used it to make us rich.
May we go and do likewise.
"For you know the grace of our Lord Jesus Christ, that though he was rich, yet for your sake he became poor, so that you by his poverty might become rich."
2 Corinthians 8:9
Look at these 8 types of poverty identified by Potter's House, a ministry I visited in Guatemala who work among their poorest of the poor. Which type of poverty do you see most often? Which do you personally identify with? Please share your thoughts on poverty in the comments.