I've wavered between a few different ideas for my post on this month's theme of Show, Go, and Tell. That's likely because we're still figuring out how to best serve "missionally" in my family's current stage and extra challenges.
It's easy to feel like we're not doing "enough" to help others. It's easier to just stay in survival mode, rather than work hard for ways to thrive.
When you can only do a little, sometimes it feels like so little wouldn't help at all, and so you stop.
But, we can all help, in little and big ways.
My friend (and writer here), Lisa, doesn't know this, but she tweeted the perfect thought tonight to spur this post:
"It's amazing how God can do so much if we'll just show up with our little." – @LisaNotes
Just show up.
If we can do something to help, let's do it.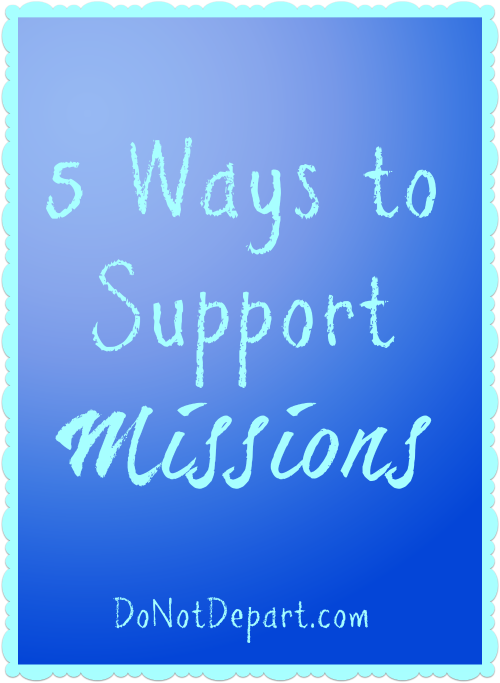 5 Ways to Help Support Missions
If you're in a season of staying or a season of fewer resources or otherwise, here are five ways to still spread God's message of love:
Pray. Of course. Pray for those serving afar. Pray for those serving nearby. Pray for you to serve as best you can in your family. Pray for open eyes to see new ways to serve.
Give a gift that gives back to missions. A few years ago, my siblings and I agreed to stop giving each other gifts at Christmas and sometimes birthdays. We all have tight budgets, and we have all the physical goods we need. So instead of giving a physical thing, we've been either performing an act of service for each other or donating in one another's name. For people you do purchase gifts for, you can choose fair trade companies that offer reliable work for people in need (and many offer a faith-based component, too) or donate proceeds to worthwhile causes. A few of my favorite companies/charities that share Christ's love while providing basic needs include:
Support businesses and charities that have missionary components. See the list above for a few ideas. Donate outright (without making a purchase), if you want. Spread the word about a company or charity through social media, word-of-mouth, and more. Pick which one speaks to you the most and shares your God-given passions. As a family, raise money or goods for a mission in need. You can also shop through applications like Pure Charity or Amazon Smile so a percentage of your normal purchases go to charities of your choosing.
Serve in your family. If you are a parent (or close to any of your family members), you impact lives. Those lives end up impacting multiple other lives, and so on. Serving and training your family absolutely spreads Christ's love.
Spread knowledge and awareness. Some people don't help simply because they don't know how to help or what needs exist. The more we share each other's stories (and our own stories), the more we can all increase compassion towards others' needs. Compassion leads to action.
If you missed it, Lisa shared ways to serve in your local community.
In supporting missions in these small (but lasting) ways, we can share Christ together, possibly in bigger ways than we could alone. Let's shine however we can.
"You are the light of the world. A city set on a hill cannot be hidden. Nor do people light a lamp and put it under a basket, but on a stand, and it gives light to all in the house. In the same way, let your light shine before others, so that they may see your good works and give glory to your Father who is in heaven." – Matthew 5:14-16
I couldn't possibly list all the avenues in which we can support great companies, charities, and missions here. What are your favorite mission-based companies and charities? How do you support those missions? Share in the comments below.

Tweetables:
"When you can only do a little, sometimes it feels like it wouldn't help at all. http://wp.me/p1Su7F-2Pl But, we can all help. @DoNotDepart" – Click here to tweet this.
"5 ways to support missions: http://wp.me/p1Su7F-2Pl via @Keep_Tha_Faith and @DoNotDepart. What are your favorite mission-minded companies?" – Click here to tweet this.