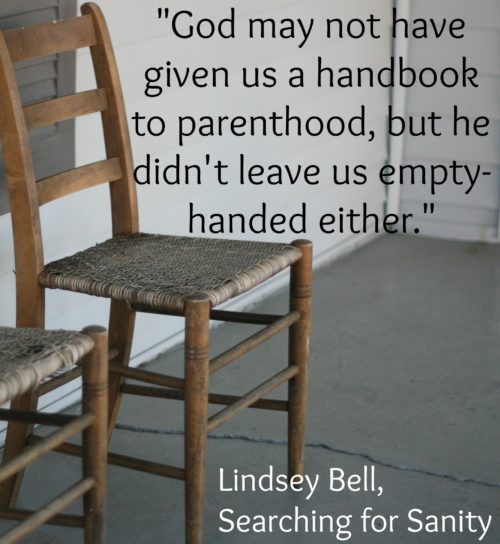 Admin note: Lindsey recently joined our writing team here at DoNotDepart, and we're already so thankful to have her! Also, exciting: Lindsey's first book just released! Read below for a little bit about the book.
I remember the ride home from the hospital well.
I sat in the front seat—still miserably sore from giving birth one day earlier—while my husband drove and my baby slept in the back.
I was happy, of course, but I was also overwhelmed. VERY overwhelmed. I had no idea what I was doing and didn't know where to turn for help.
In the weeks that followed, as I adjusted to life with a baby, I scoured the Internet, desperately looking for some sort of guide that would make life easier for me.
What I found instead was a variety of parenting opinions that left me more confused than ever. It was then I noticed my Bible sitting on my nightstand.
Why I hadn't searched it before is beyond me. After all, God was the One who invented parenthood. He—more than anyone else—knows what's best for my children and for me.
So today, moms and dads, if you are feeling overwhelmed…if you're wondering where to turn for parenting advice…don't neglect the One who knows everything about you.
Turn to Him first. He might not give you a manual to parenthood, but (as I learned when my son was first born), He will help you through the often-overwhelming days of parenthood.
Let's Talk: Besides the Bible, what are some other great places to look for parenting advice? Leave a comment to be entered to win a gift card from Lindsey for her blog tour contest!
This post is part of a Lindsey's blog tour for Searching for Sanity, her new parenting devotional. You can read other posts in this tour by going to her blog: www.lindsey-bell.com or her website: www.lindseymbell.com.

You can also find Lindsey on Twitter, Facebook, or Pinterest.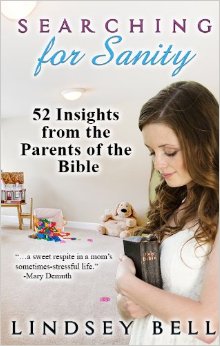 About Searching for Sanity:
Have you ever looked at your beloved children and wondered, what in the world am I doing? Why did God trust me—of all people—to raise them?
Motherhood is the most difficult job many of us will ever take. Searching for Sanity offers moms an opportunity to take a breath, dig into the Word, and learn from parents of the past. In short devotions designed for busy moms, this book uses the parents of the Bible—both the good and the bad—to inspire today's mothers.