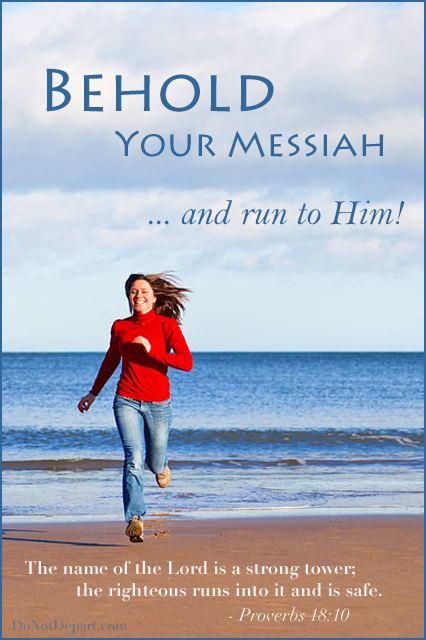 We are continuing our journey through Isaiah 55 today, moving to verses 4 and 5. Open your spiritual eyes – God has something for you to behold!
In the previous two verses the Lord called us to listen, to incline our ears, and to hear. In verses 4 and 5 He tells us to look – to behold, and again to behold.
Behold, I made him a witness to the peoples, a leader and commander for the peoples. – Isaiah 55:4
While verse three referred to David, most commentators understand verse 4 to be speaking of the Messiah – the Savior who would come in the line of David. The Messiah Himself is the everlasting covenant, the manifestation of God's steadfast sure love for David, and for His people Israel.
Scripture is clear that Jesus is the Messiah Who was promised. God made Jesus the witness of His covenant, and the leader and commander of His people.
As followers of Jesus, we can safely submit to His leadership and commands, knowing that He Himself is the very manifestation of a heavenly covenant of love! That love kept Him from succumbing to the enemy's temptations while on earth, that love that set the example for how we are to conduct ourselves as His followers, that love brought Him willingly to the cross on our behalf.
Behold, you shall call a nation that you do not know, and a nation that did not know you shall run to you, because of the LORD your God, and of the Holy One of Israel, for he has glorified you. – Isaiah 55:5
But now we look again (behold!) and find something astonishing… God planned for the Messiah not to be sent just for the Jews, God's beloved and chosen, but for all people!
As I read verse 5, I can't help but imagine all the bedraggled people of the world, perking their heads up at the call of Jesus, dropping their burdens and running. Isn't it wonderful that the Lord saw fit to include that word in this passage? It reminds me of another precious verse:
The name of the Lord is a strong tower; the righteous man runs into it and is safe. – Proverbs 18:10
Behold Jesus – witness of God's everlasting love… leader of any who will run to Him when He calls… glorious Saviour!
By the sure mercies of David, we are to understand the Messiah. All his mercies are covenant mercies; they are purchased by him, they are promised in him, and out of his hand they are dispensed to us. We know not how to find the way to the waters, but Christ is given to be a Leader, a Commander, to show us what to do, and enable us to do it. Our business is to obey him, and follow him. And there is no coming to the Father but by him. He is the Holy One of Israel, true to his promises; and he has promised to glorify Christ, by giving him the heathen for his inheritance.
– Matthew Henry
Aren't we are all little children, hurt and wounded on the playground of life, whose strength surges into us when we see Daddy? We pick our skinnedknee souls off the ground and run into the everlasting arms for comfort, for safety and for peace.
Behold… He calls!
Are you running from Him today or running to Him, friend?  How can we be praying for you?  Would you share in the comments?
Share on Twitter:
"Pick your skinned-knee soul off the ground and run into the everlasting arms for comfort today. More @DoNotDepart http://ctt.ec/7_0QU+" click here to tweet this