I used to be an organizational ninja!  In fact, just a couple of years ago I wrote a post called The Type A Person Prays.  As I was praying and contemplating what to share this month as we highlight tools you can use for Bible study, I came across that post.  And, to be honest, I was very convicted … it's been far too long since I have been focused and intentional in my prayers.
In that post, I shared about using Prayer Calendars to organize your prayer times.   Perhaps you are like me and often find yourself lost in the daily demands of mothering, wife-ing, housekeeping, working, and laundering.  Prayer calendaring is a great way to maintain focus in your prayers.
I have used both weekly and monthly prayer calendars.  First, the weekly:
I assign a specific prayer need to each day of the week.    
For example:
Sunday – church services, both my church as well as other churches in my community and those pastored by family and friends
Monday – our church staff and the ministries of our church
Tuesday – my daughter's school system and the teachers
Wednesday – my family
Thursday – Scott's family
Friday – my community, the ministries that happen here, our local government, etc.
Saturday – the week ahead.  I like to use my calendar and pray over any activities, etc., we have coming up.
Using a weekly prayer calendar helps me spend quality time praying for the needs of those close to me as well as in my church and community.  I am adding a new component to my prayer calendar – focus Scriptures.  As I find passages or verses that pertain to the specific areas about which I am praying, I will be making note of them on my prayer calendars.
The other type of prayer calendar I use (at the recommendation of my daddy) is a monthly prayer calendar.  I assign a specific prayer theme to each month.  Then with the monthly calendar I fill in a person, situation, etc., to pray for during each day.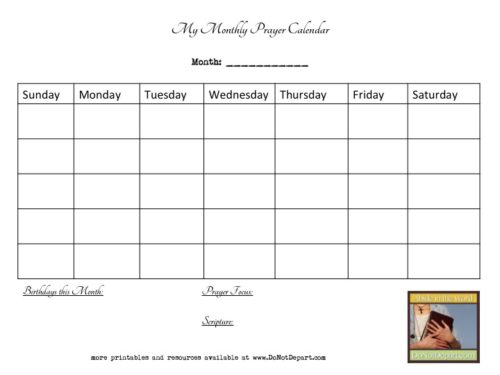 Here are some of the prayer themes I have used for my monthly prayer calendar:
myself
my husband
my daughter
national, state, and local governmental leaders
foreign mission fields and ministries like One Verse and the Gideons who provide the Bible in many languages
North American mission fields, church plants, etc.
summer months – how we should use them, etc.  (I typically do this in May.)
focus and direction for the year ahead (typically in January)
adopting families and ministries like Compassion and World Vision
my friends
gratitude (November is a great time for this!)
friends we have in ministry
crisis pregnancy ministry
La Clinica Cristiana (the local health care ministry where I volunteer)
back to school (teachers, home school families, etc.)
The options are endless … but I have found that by devoting an entire month to praying for such specific topics helps me keep those things on my mind throughout the whole year.
You can download both of these calendars and use them for your personal prayer time.   (To download the weekly prayer calendar, click here, right-click on the image, then choose "Save As…" to save the file on your computer.  To download the monthly prayer calendar, click here, right-click on the image, then choose "Save As…" to save the file on your computer.)
How do you organize your prayer time?  Have you ever used a prayer calendar or similar tool?