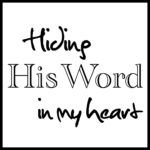 Link your post(s) below about scripture memory.
Then please be friendly and visit one or two other links. You'll be blessed.
Suggested topics:
What version do you memorize from? Why?
Your current memory verse
What you've learned from memorizing scripture
What you'll be memorizing this month
Bookmark this page so you can add and visit new links all of September!
Don't have a blog post to link? Just leave a comment below about your memory work. We'd love to hear about it.
It's not too late to join in our 1 Peter 1 memory challenge. Details here.